@chillum on Twitter has put thread after thread together on various paths in which the Podesta brothers, Tony and John, appear to be the ones in the pathway of Mueller's Special Counsel.  Some of this might seem a little disjointed and/or out of order, but for the most part I tried to follow them as best I could. What we are living through has the potential to be the crackdown of one of the greatest crime syndicates the world has ever know. Whether or not Trump and his admin have the time to finish the takedown is the question….
Gulen's Network in 2006 — over 50 affiliated organizations operating in the US
• 34 educational consultancies and educational foundations (22 of which are in the U.S.)
NYT reported last year that he had 136 schools in 28 US states.
Hacibaba Turkish restaurant chain expanded to the U.S., and a construction and food services firm operating in Turkey & Texas.
Put that into Google, and what do you get?: Biosecurity.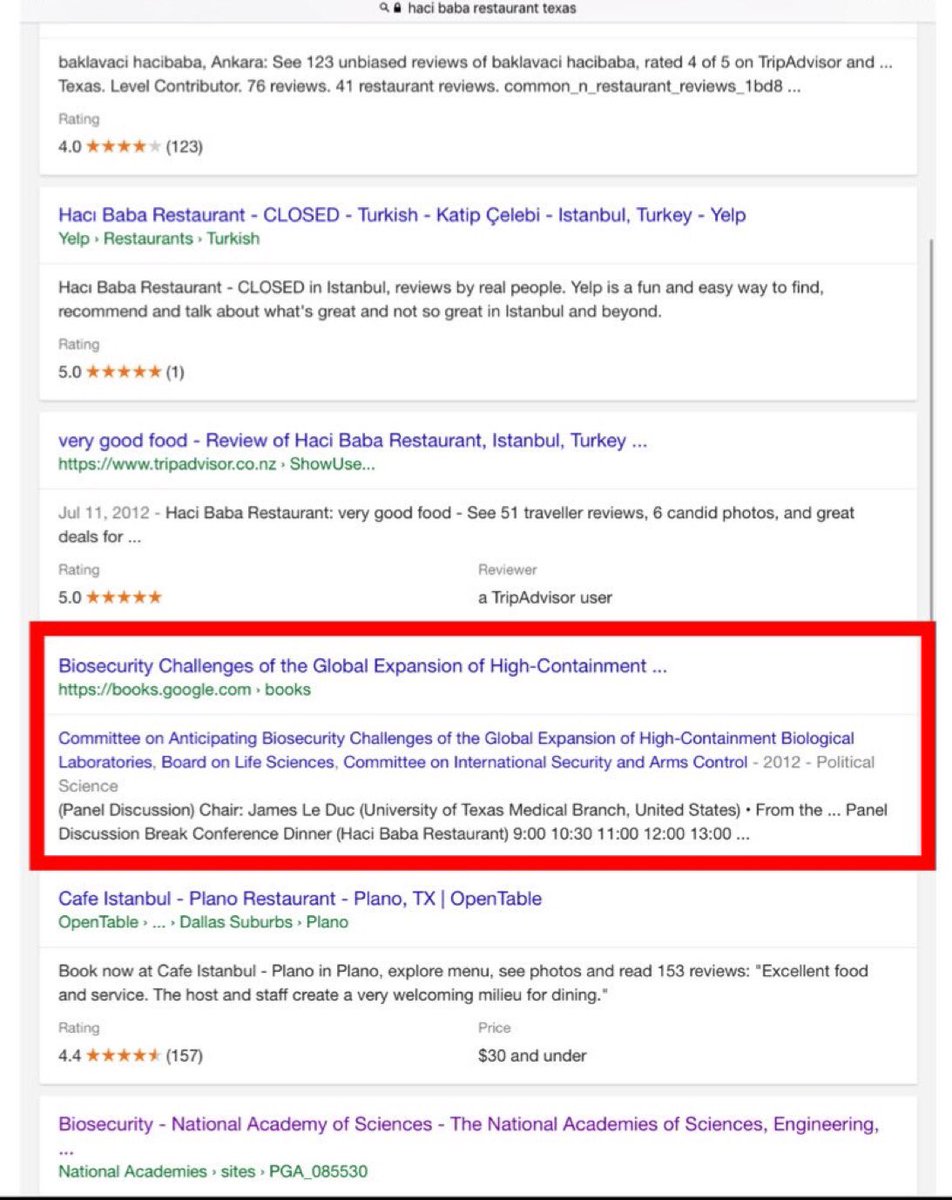 Houston, we have a problem: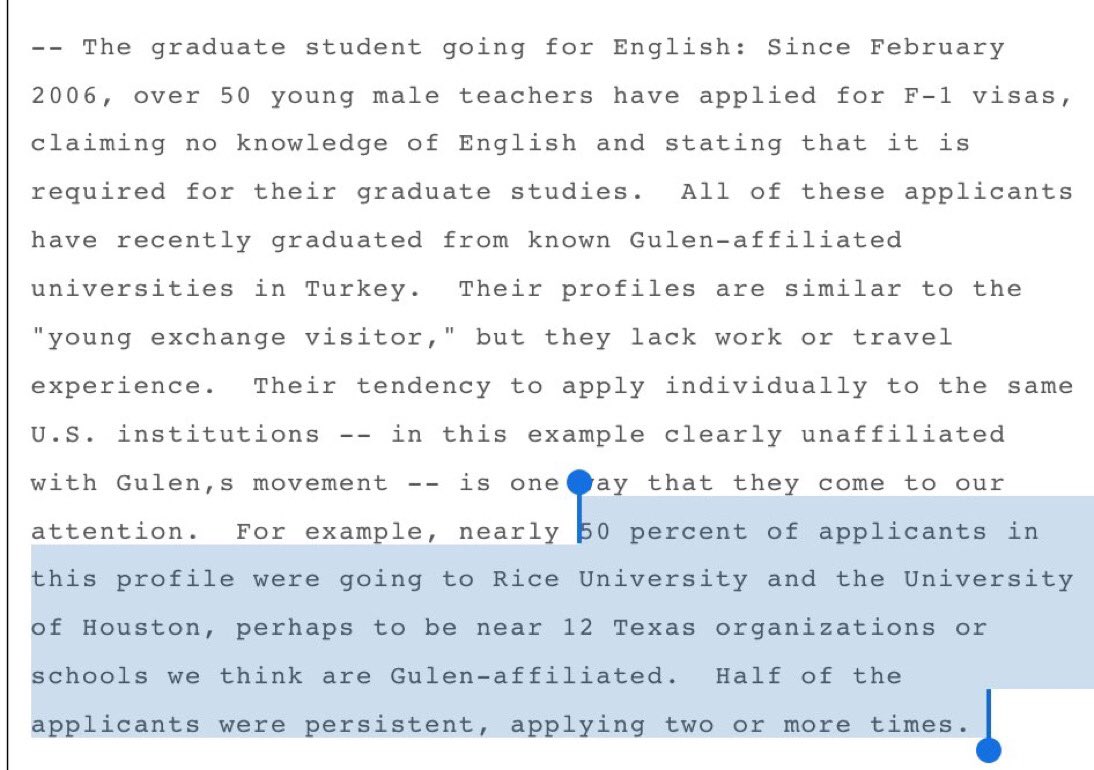 US parents are concerned about the Gulen movement that's infiltrated their schools. He's hiding money and laundering it.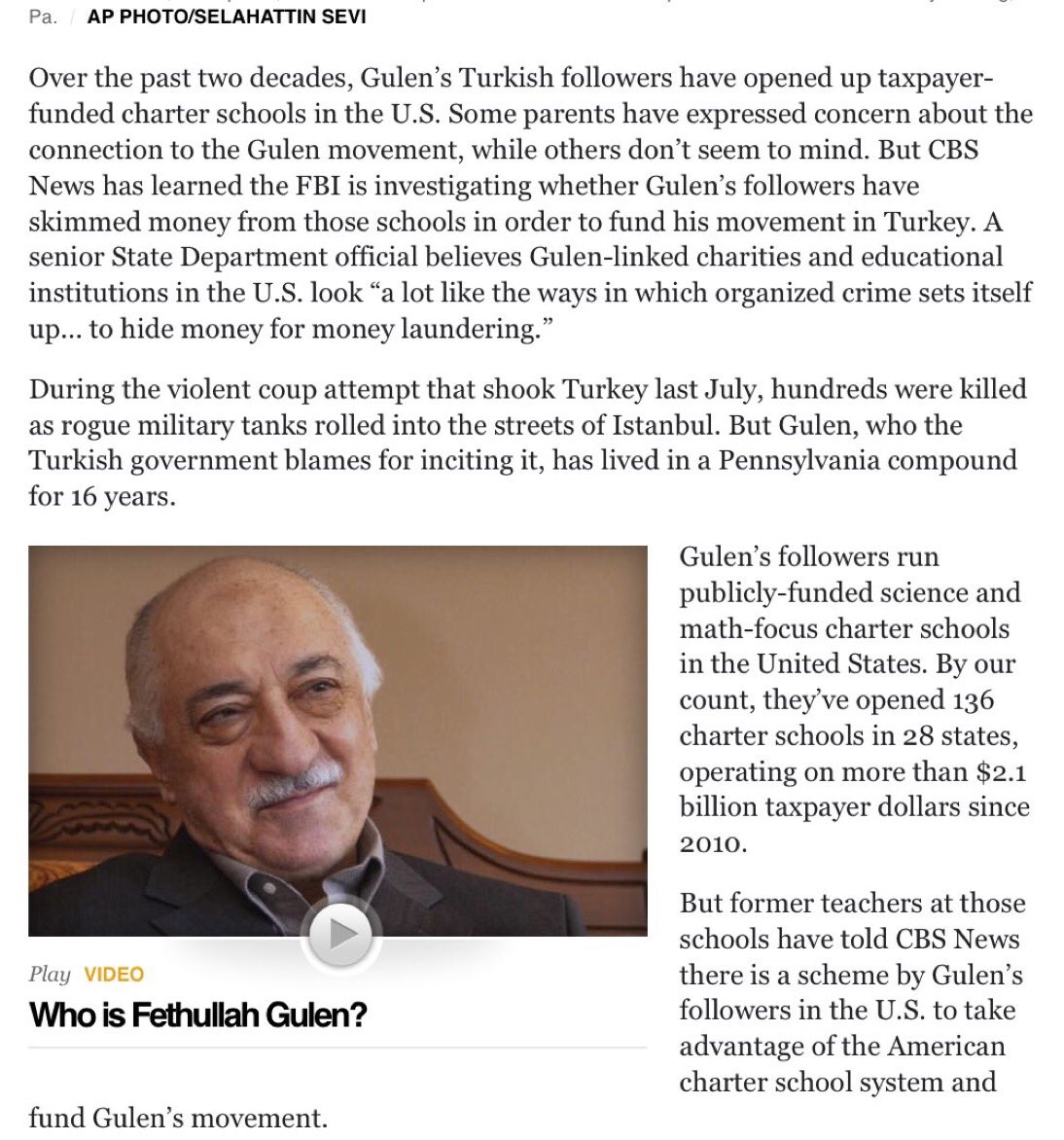 This article was scrubbed: Gulenist operated School of Science in Texas hit with pornography scandal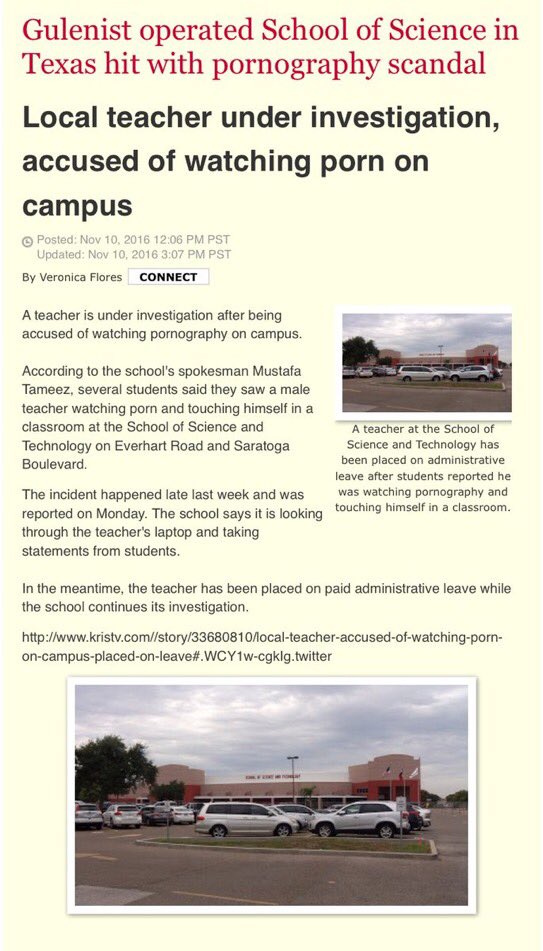 Read: Gulen's Texas charter school network accused of self-dealing.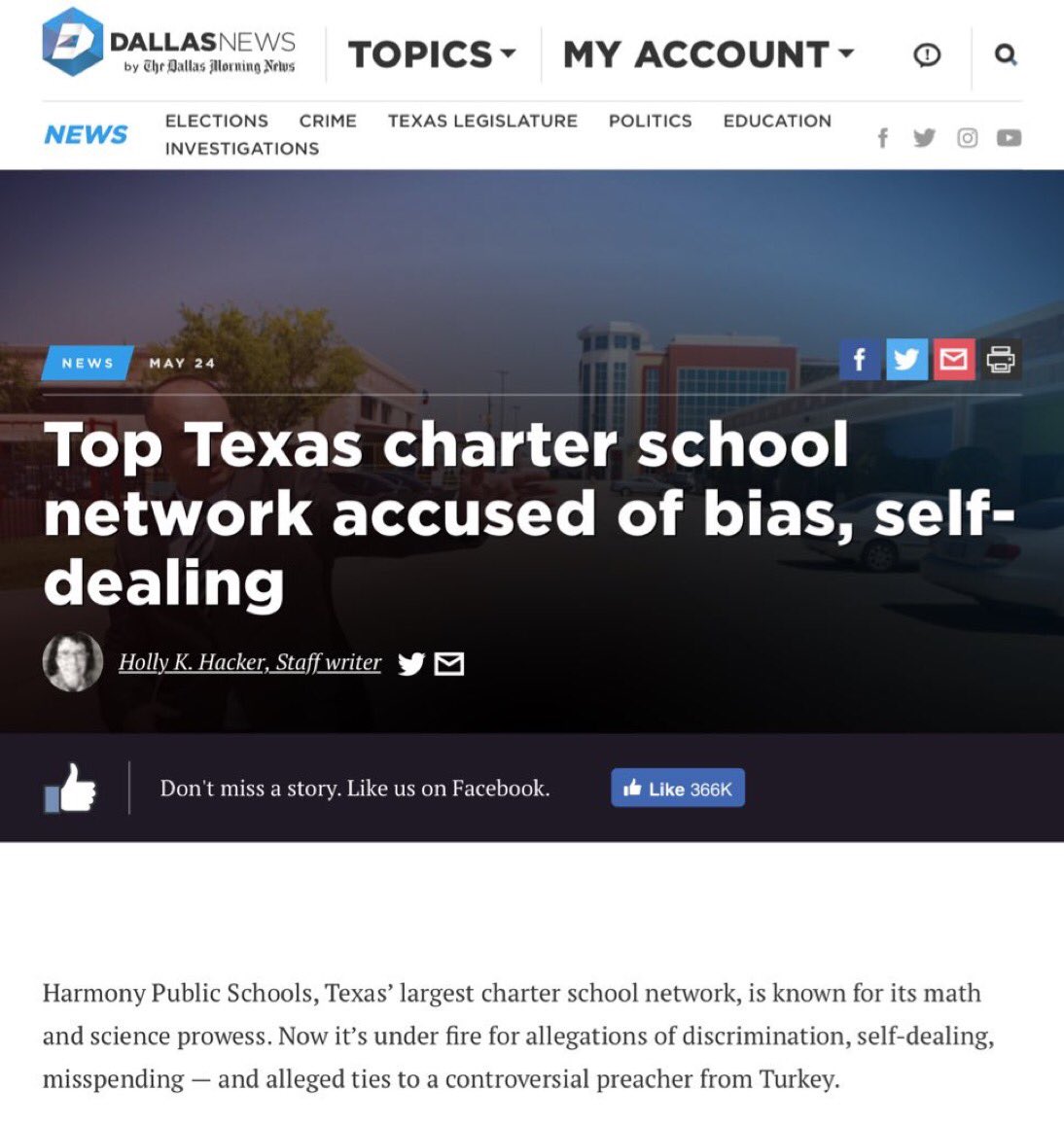 Harmony Schools have evaded accountability. No outside parties have ever verified their waiting lists, SAT scores are hidden, etc.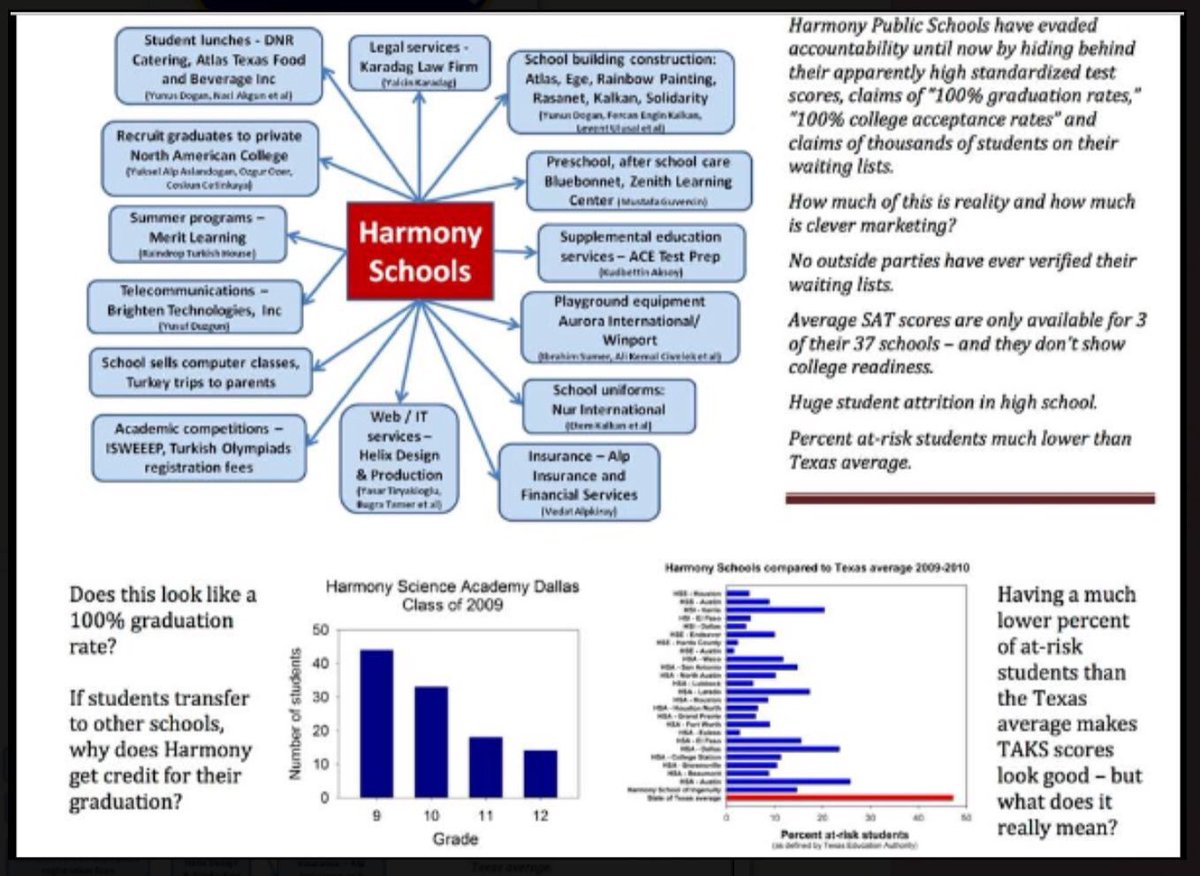 CHICAGO —Complaint Filed Against Gulen School
Lawyers for Turkey call for probe of Chicago charter school – Gulen-funded.

Gulen's Wire Fraud: Application for search warrant on Concept Schools in Des Plaines, Illinois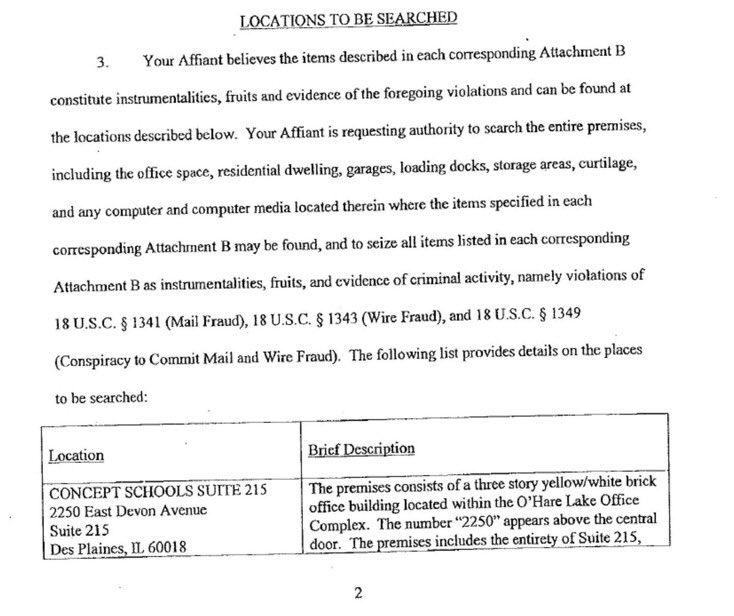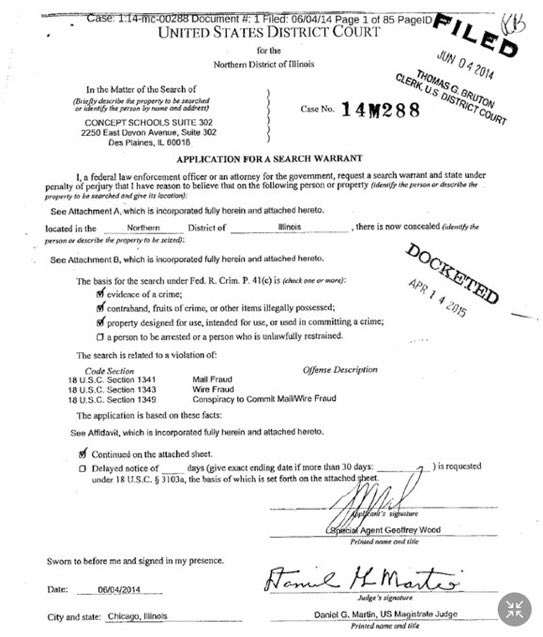 Tell me what you see happening here  Get Gulen OUT!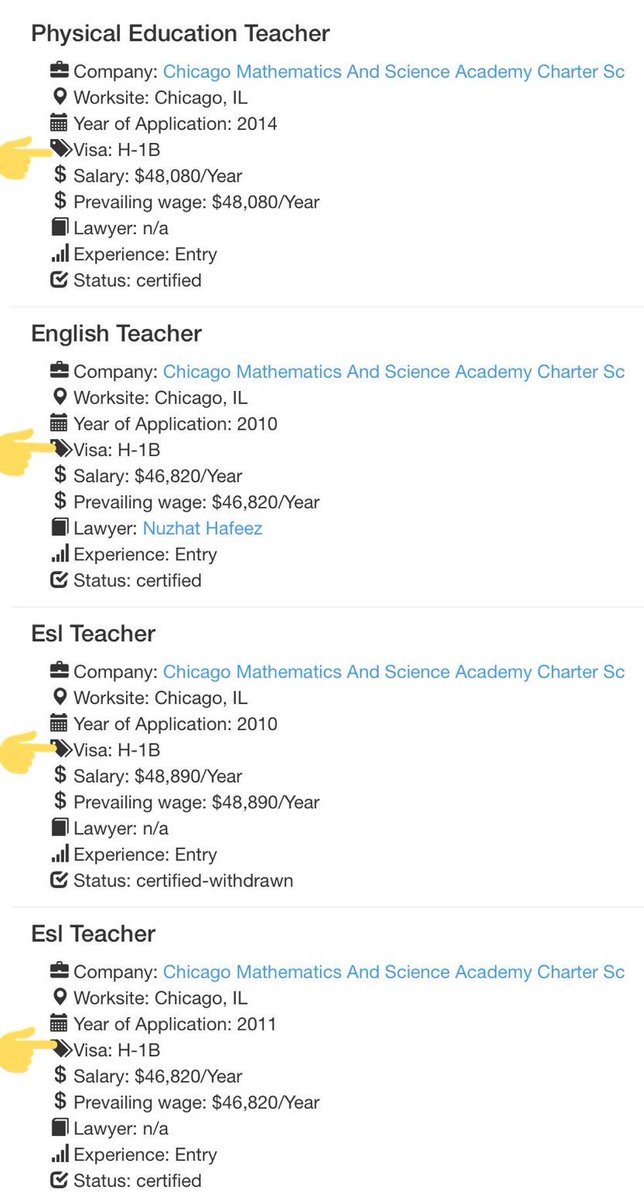 Diane Samuels, Kenilworth Charter School, Subject of FBI Inquiry – Ties to Turkish Education Movement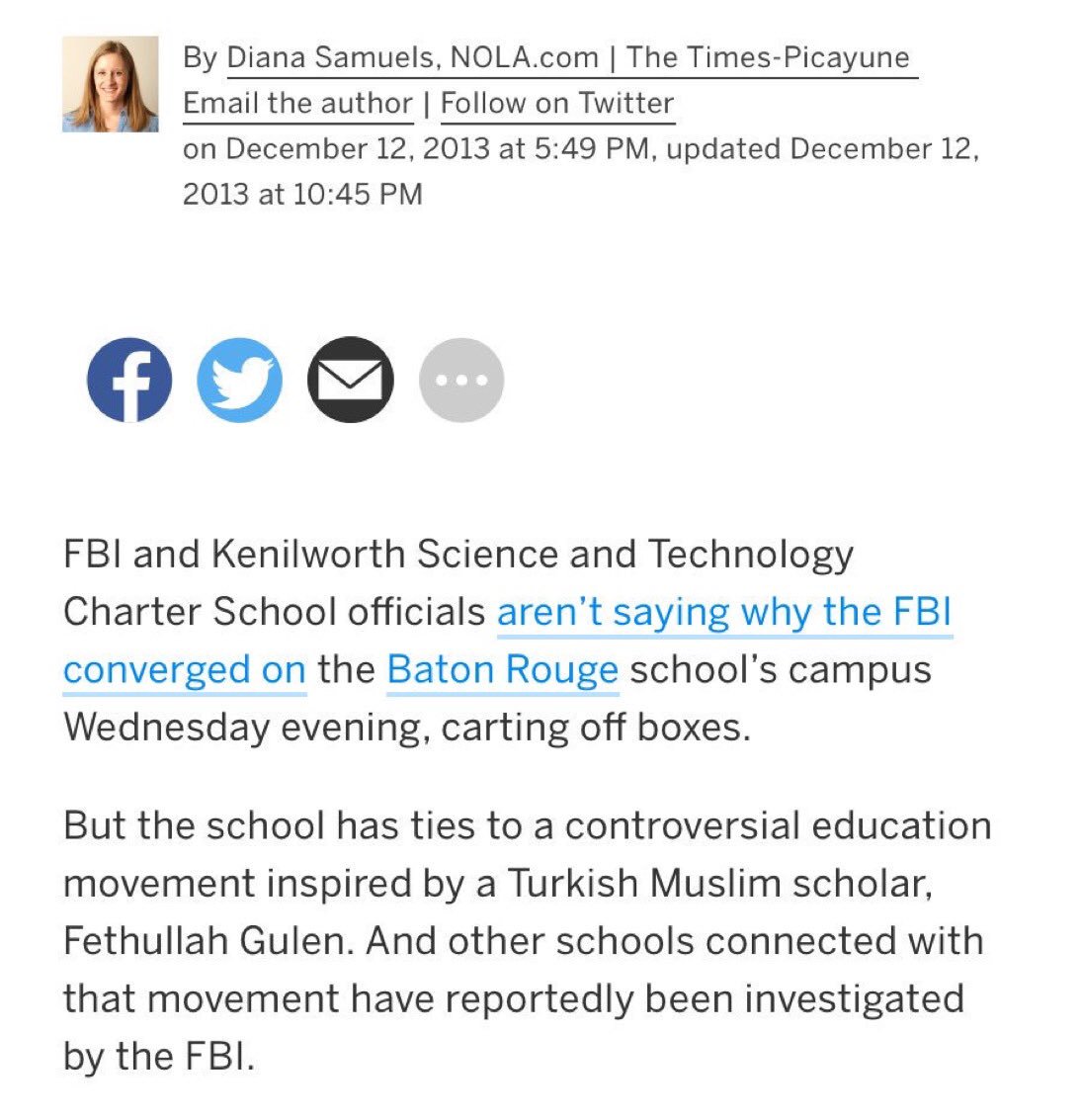 The Philadelphia Inquirer reported in 2011 that the FBI was investigating whether employees of charter schools affiliated w/Gulen were kicking back part of their salaries, funded by taxpayers, to the Turkish Muslim movement of Hizmet.  The Inquirer reported the investigation was nationwide, but coordinated by prosecutors in Pennsylvania, where Gulen lives.  Gulen' bribery here.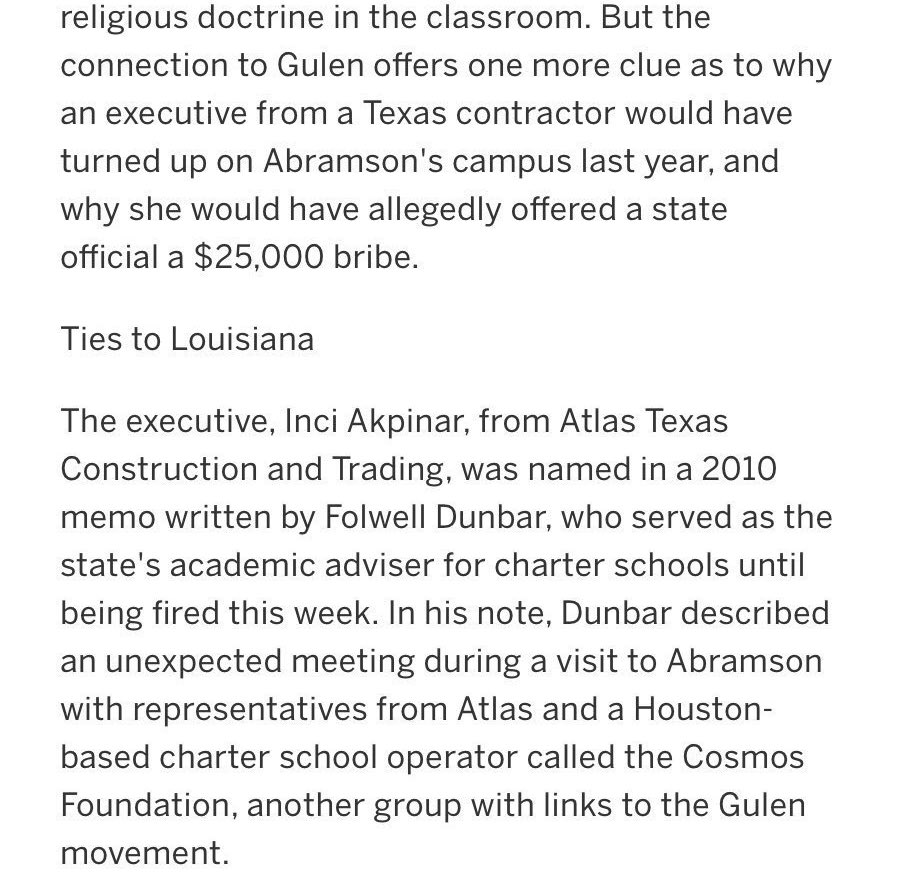 What was the bribery for? Two 5-year-olds sexually abused. GET GULEN OUT.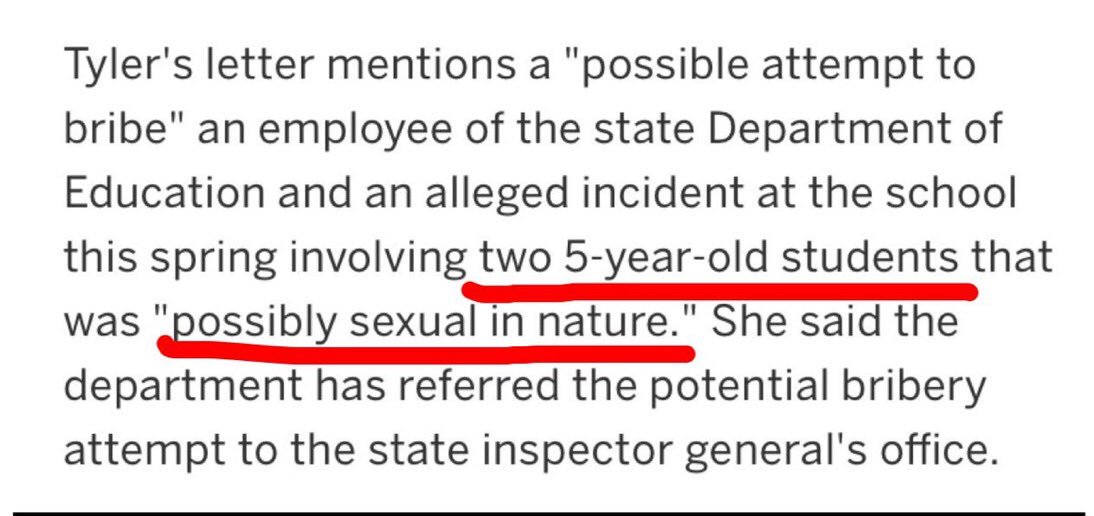 You think Flynn has a list of high-profile pedos? Believe it. Why is he being investigated? He can end Gulen's ring in one swoop. Get Gulen out and Flynn prevails.
Immigration records show that Remzi Kulen worked with 211 companies since 2009. His customers? Charter schools w/ties to Gulen.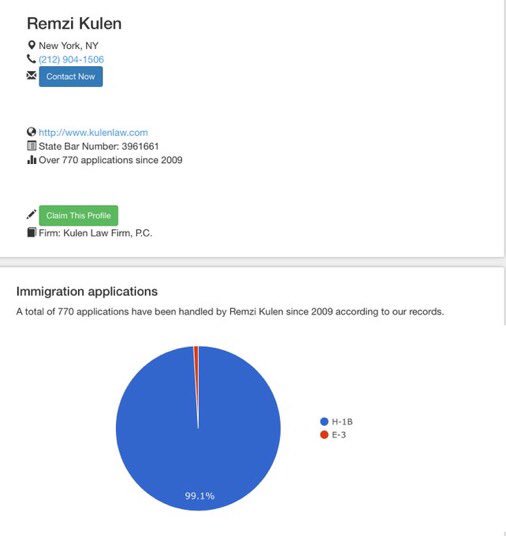 Here's a link:
Now you see why..Mueller Is Investigating Whether Flynn Engaged In Kickback Scheme w/a Turkish Businessman
CBS INVESTIGATES — Are US Schools Funding Gulen?
2015: Followers of Gulen donated heavily to HILLARY CLINTON'S CAMPAIGN, CGI & Clinton Foundation.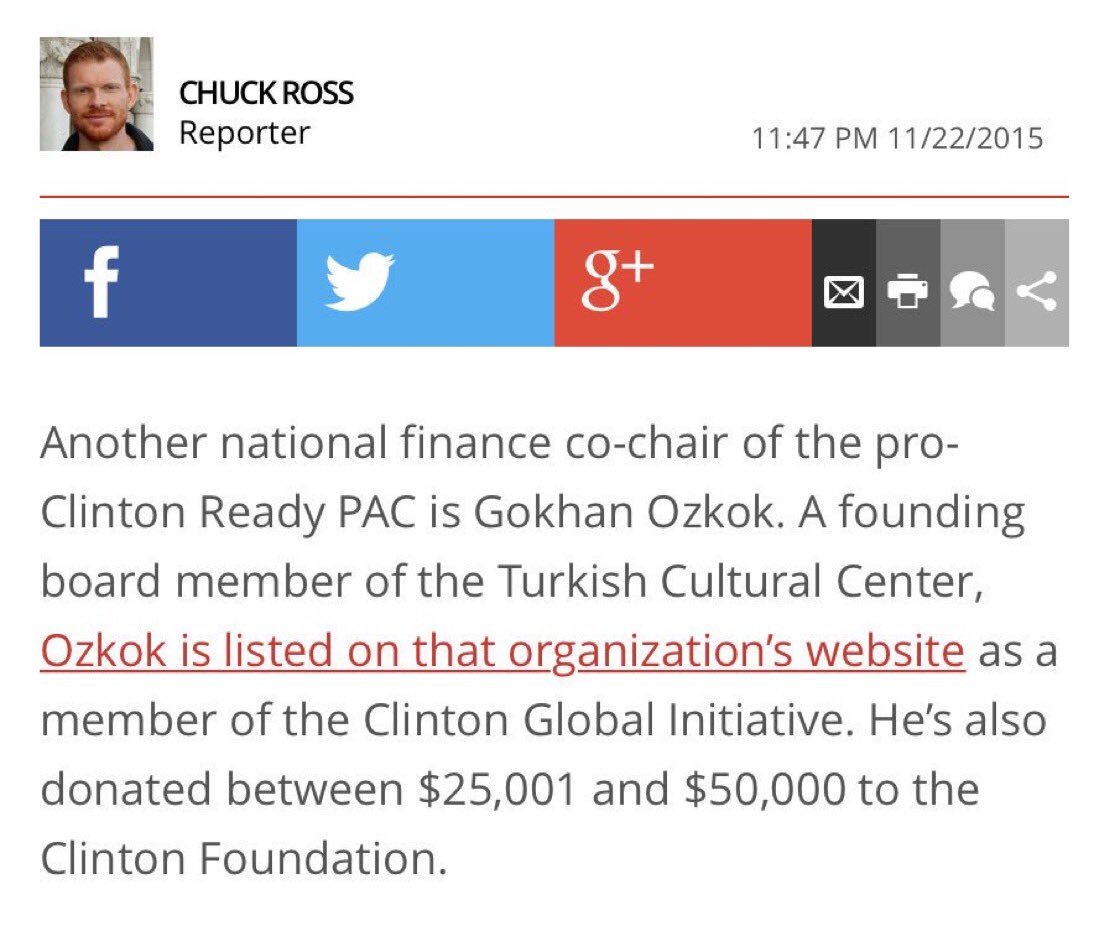 Do you see? "Turkey probes Senator, ex-CIA director over links to Gulen"

Schumer

Preet

Brennan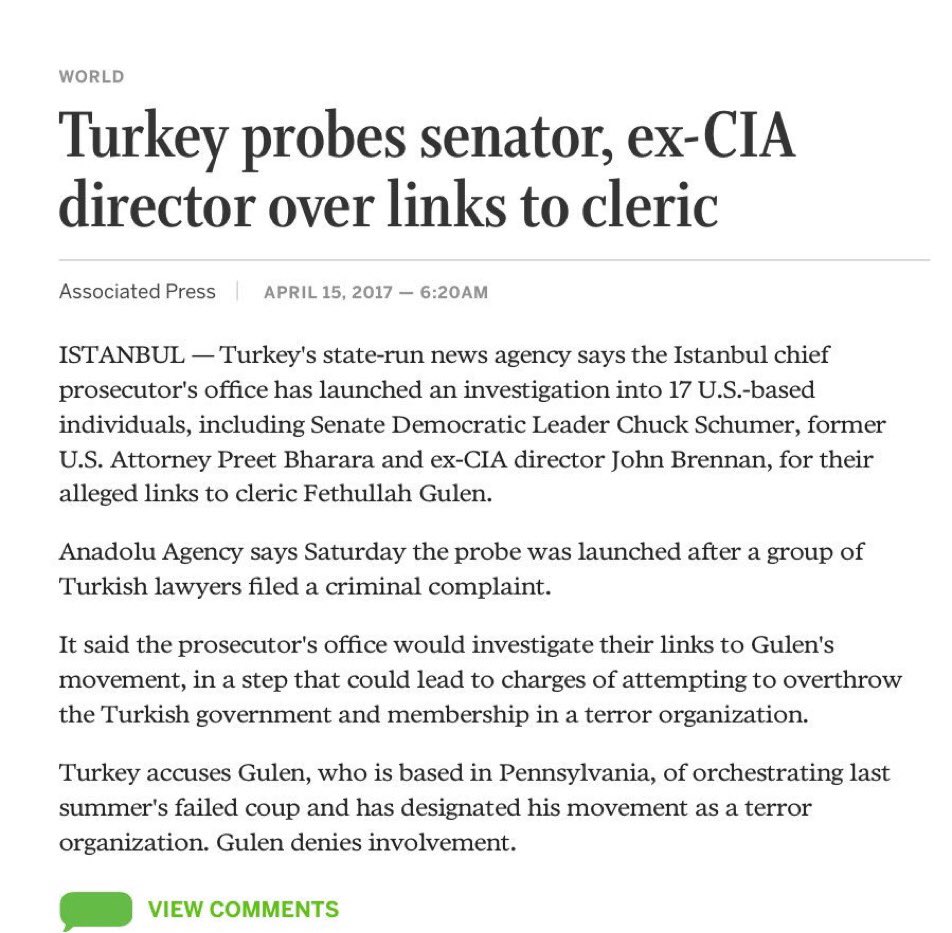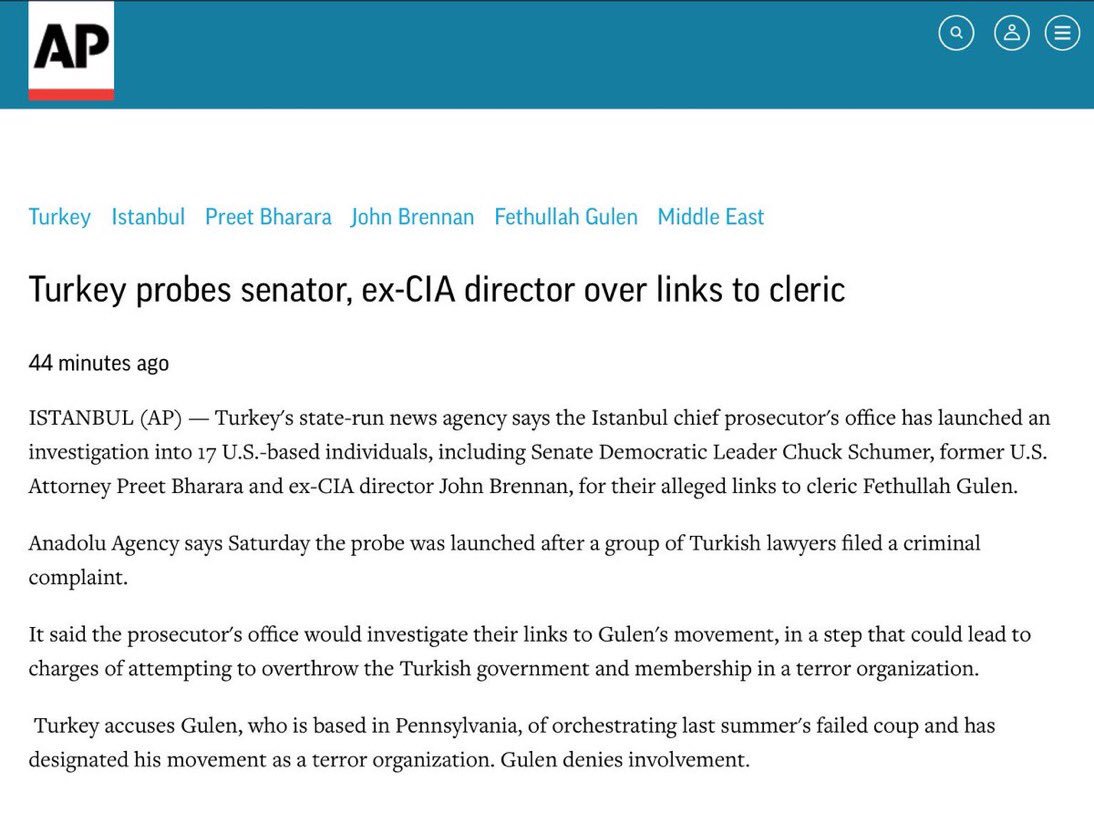 Bill Clinton:  Fethullah Gulen's Contribution
"You must move in the arteries of the system w/out anyone noticing, until you reach all the power centers" —Gulen
LEARN Operation Gladio B:
NSA Agent Wayne Madsen; CIA Behind the July 15 Coup Initiative
BALLARD PARTNERS AND ROBERT WEXLER TO REPRESENT TURKEY'S ERDOGAN GOVERNMENT (UPDATED)
Two Turkish businessmen who have donated to the #ClintonFoundation and are part of a network of "think tanks" and businesses supporting an Islamic cleric being sought for extradition by Turkey's president reached out to to Hillary Clinton aide Huma Abedin for favors in 2009, released emails show.
The emails, which were released by the watchdog group @JudicialWatch show that Abedin moved to help the men, Gokhan Ozkok and Recep Ozkan. Emails released by another group, Citizens United, show that both Ozkok and Ozkan were on the guest list for a June 12, 2012 #ClintonFoundation dinner held at then-Sec. of State Hillary Clinton's home.
Both men are top lieutenants of Fethullah Gulen, a 75-year-old cleric who lives in exile in the mountains of Pennsylvania. In one May 2009 email, Ozkok, who was at that time the president of the Gulen-connected Turkish American Business Council, praised Clinton in an email to Abedin for "converting" Turkish Americans to the Democratic party. "The Turkish American community has been believing in the friendship of Sec Clinton since the day we met her first," Ozkok wrote to Huma Abedin on 5/22/2009.
Photo: Sen. Clinton speaks at 2007 event for the Turkish Cultural Center. (Youtube)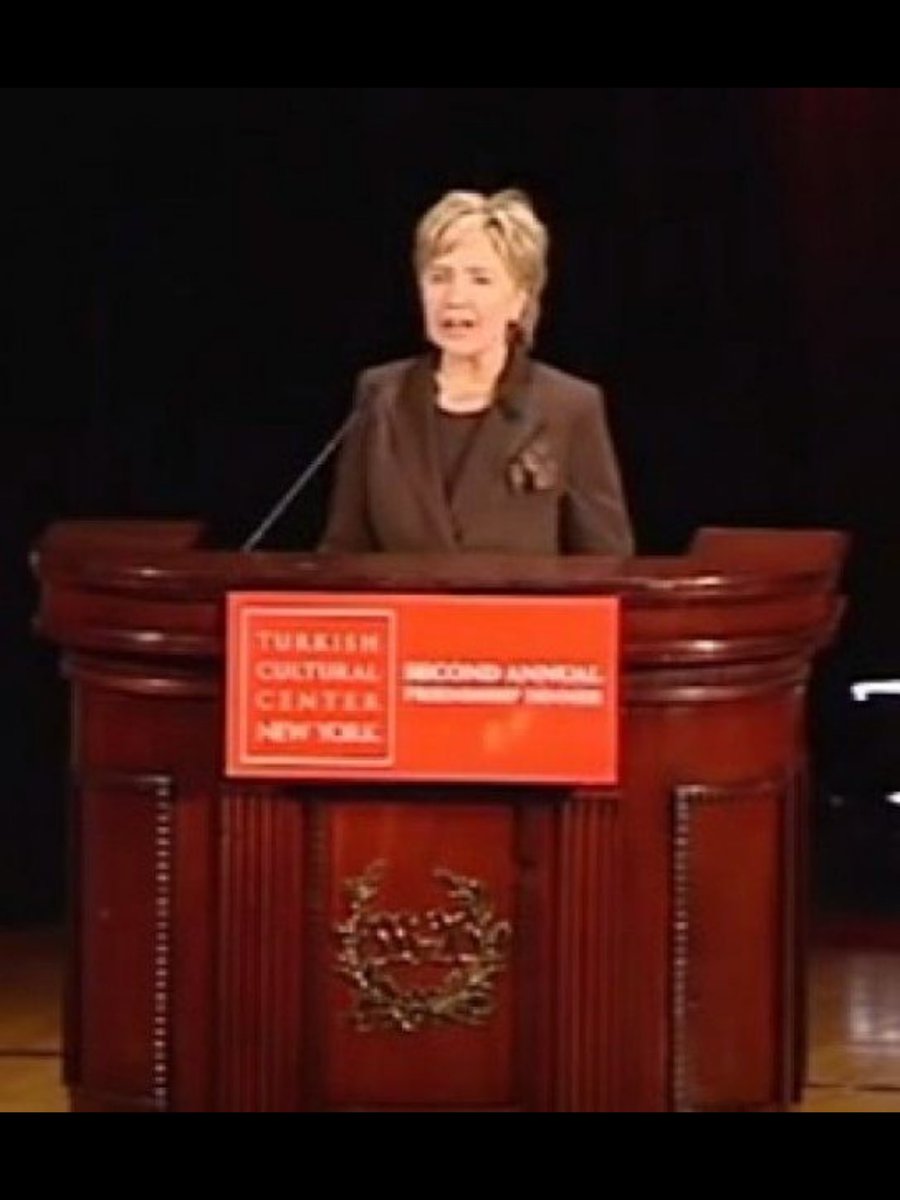 Ozkok also extended get well wishes to Clinton on behalf of Gulen himself. "I would like also to convey the prayers of Mr. Gulen" Abedin responded saying she would pass the message along. The emails shed more light on Clinton/Huma ties to the Gulen mov't, aka Hizmet.
The Gulen network operates hundreds of charter schools in the U.S. as well as dozens of "think tanks" promoting Gulen's teachings. The network's charter schools have drawn scrutiny in the U.S. over crony construction deals and visa violations. Ozkok, Ozkan and several other Gulen supporters contributed heavily to Clinton's presidential campaigns. Ozkok and Ozkan were even listed as national finance co-chairs of #ReadyPAC, the super PAC formed in 2014 to support Clinton. Ozkok has given between $25,000 and $50,000 to the #ClintonFoundation. He was also listed on the Turkish Cultural Center's website as a member of the Clinton Global Initiative. He was listed on the Clinton Foundation's website as having donated an undisclosed sum last year [$500,000 – $1,000,000]. They were both invited to the 06/2012 #ClintonFoundation dinner, which was attended by a slew of Dem donors, lobbyists and gov't officials.
As w/many other #ClintonFoundation and campaign contributors, Ozkan's and Ozkok's $ appears to have allowed them access to Clinton via Huma. Both Ozkan and Ozkok emailed Abedin in 06/2009 to help arrange a meeting between Clinton and one of their allies, Ekmeleddin Ihsanoglu, then the secretary-general for the Organization of Islamic Cooperation. "We need your support," Ozkan wrote to her on June 23, 2009. He also told Abedin that Ihsanoglu is "a very close friend of your parents." Reminder: Abedin's father, Syed, published the Journal of Muslim Minority Affairs. Huma was listed as an assistant editor between 1996 and 2008. During that time it published articles blaming the U.S. for the 9/11 attacks and arguing against women's rights. Abedin's mother, Saleha, is a professor in Saudi Arabia and serves as editor-in-chief for the journal.
Because #SickHillary was "ailing from a fall she suffered" around that time, Abedin helped set up a phone call between her boss and Ihsanoglu, who ran against Erdogan for president in 2014.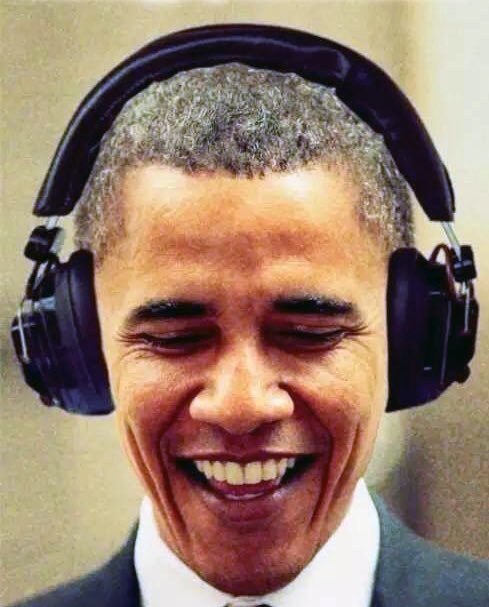 The Erdogan regime is actively searching for at least one Clinton-supporting Gulenist. A #ReadyPAC donor named Adil Oksuz is the subject of a manhunt in Turkey. (Not sure if he's been caught) Erdogan accuses the Istanbul-based professor of helping mastermind the coup attempt there. Oksuz donated $5,000 to #ReadyPAC on June 27, 2014, the same day that Ozkok and Ozkan made their contributions to that political committee.
Here's the meat: The Gulen network has developed a relationship with the Clinton's in another way…The Alliance for Shared Values has hired the #PodestaGroup to lobby on its behalf. The Alliance for Shared Values has issued statements directly on Gulen's behalf in the aftermath of the failed coup. Unbelievable.
Members of the Alliance for Shared Values (hired Podesta Bros & tied to Gülen) include: •Atlantic Institute •Rumi Forum •Pacifica Institute •Institute for Interfaith Dialogue •Niagara Foundation •Peace Islands Institute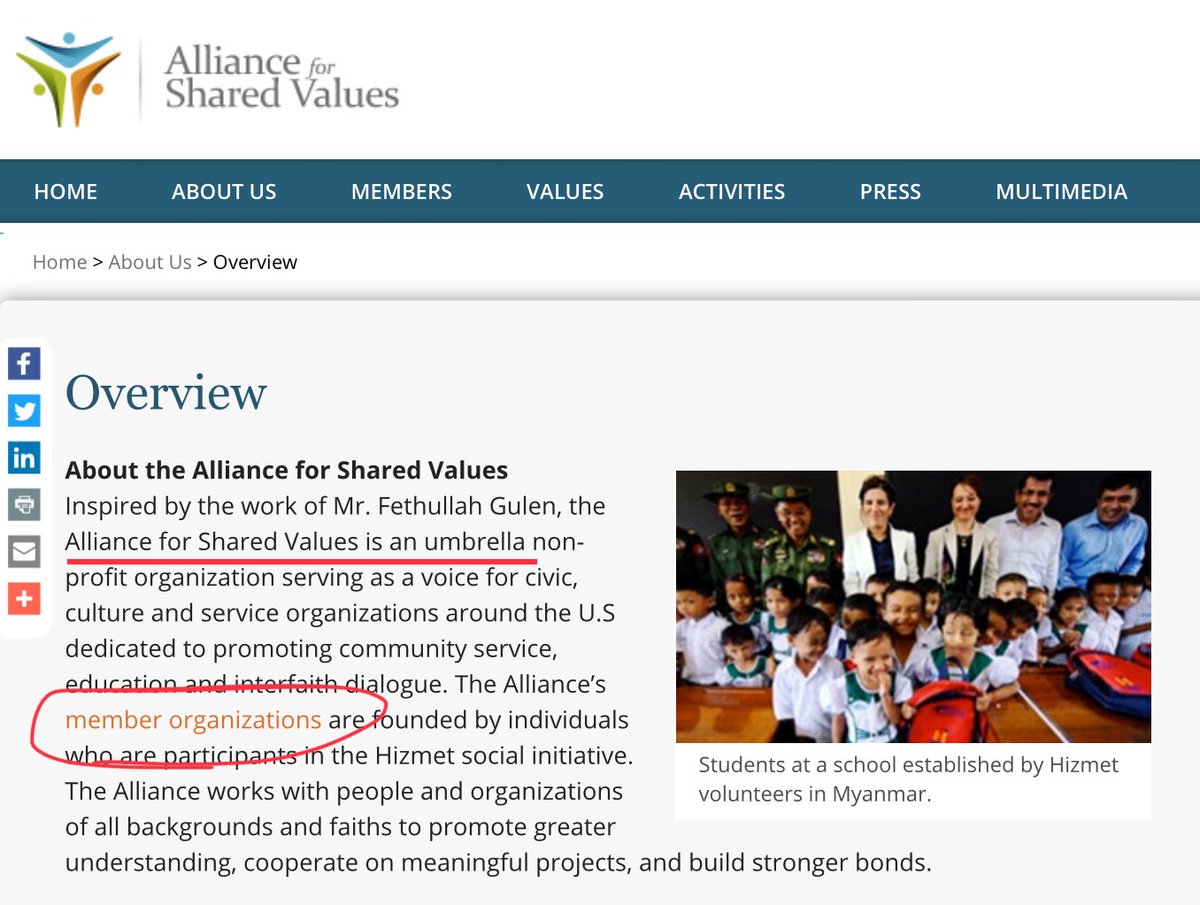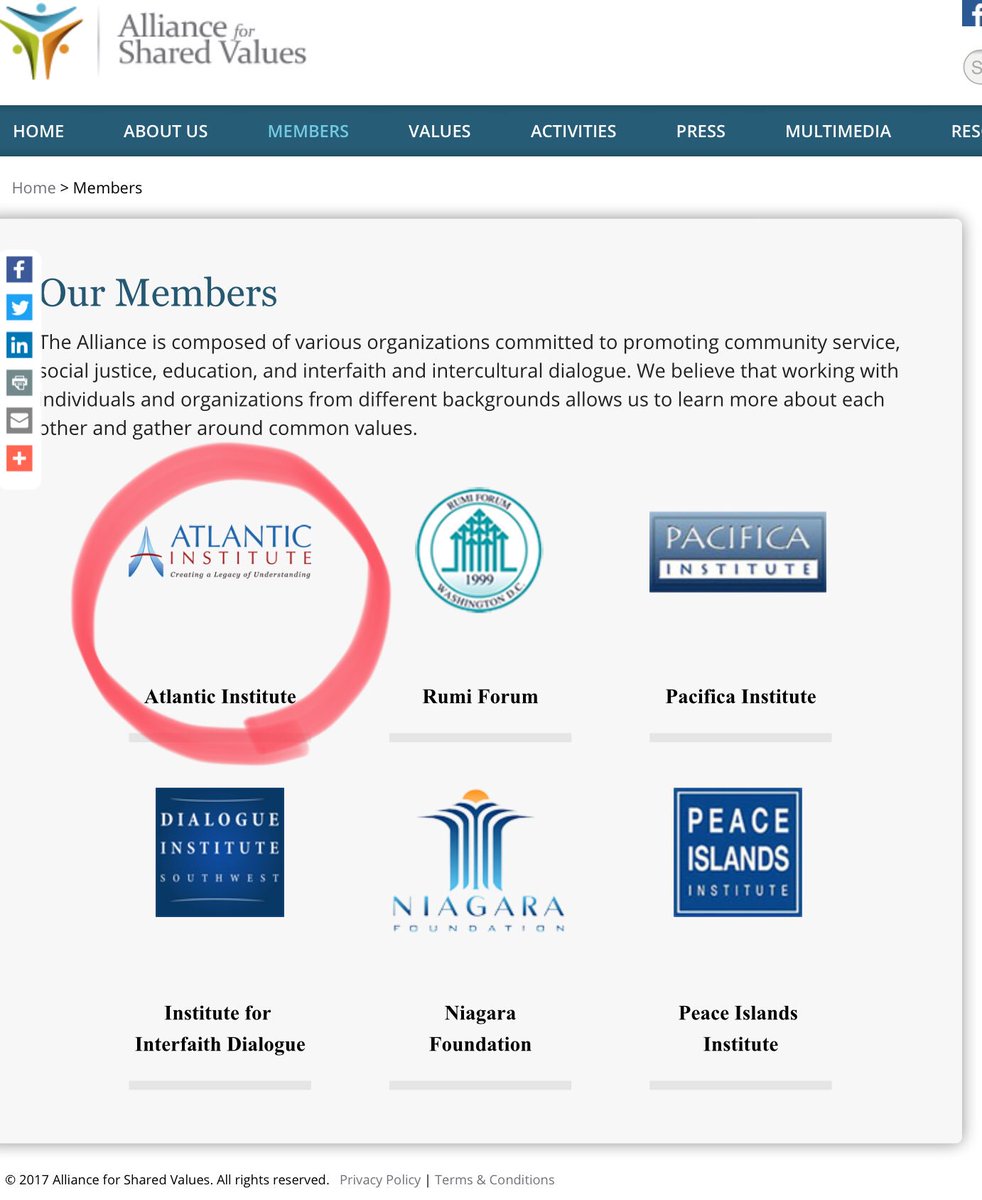 The Atlantic Institute, formerly known as the Istanbul Cultural Center, is a non-profit group from West Columbia, South Carolina that "promotes dialogue between different faiths, cultures and religions." Their outreach coordinator was "caught"…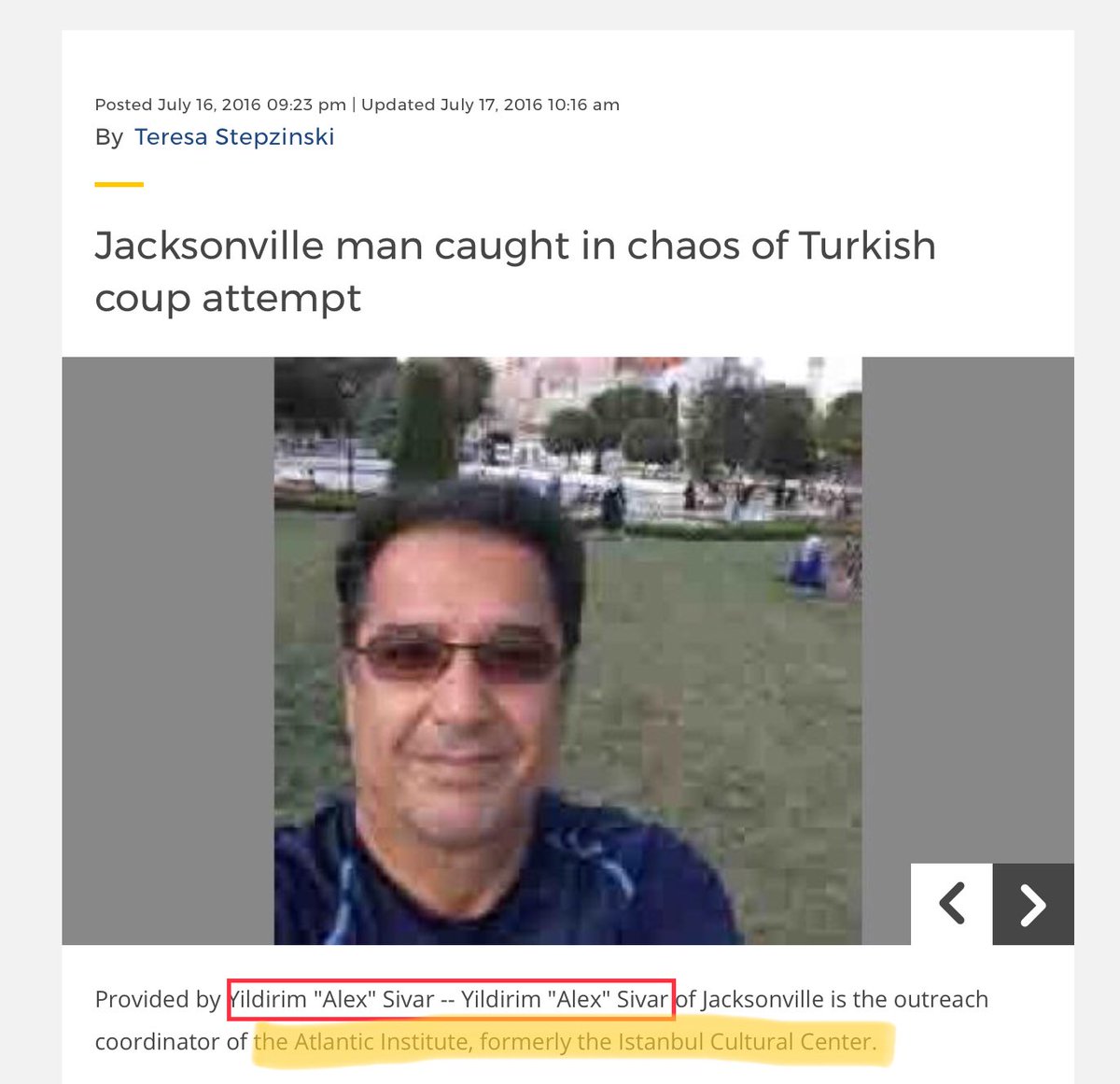 It organizes cultural interfaith events in South Carolina and also *paid for legislators trips from South Carolina to Turkey*. Its president and director is *Akif Aydin.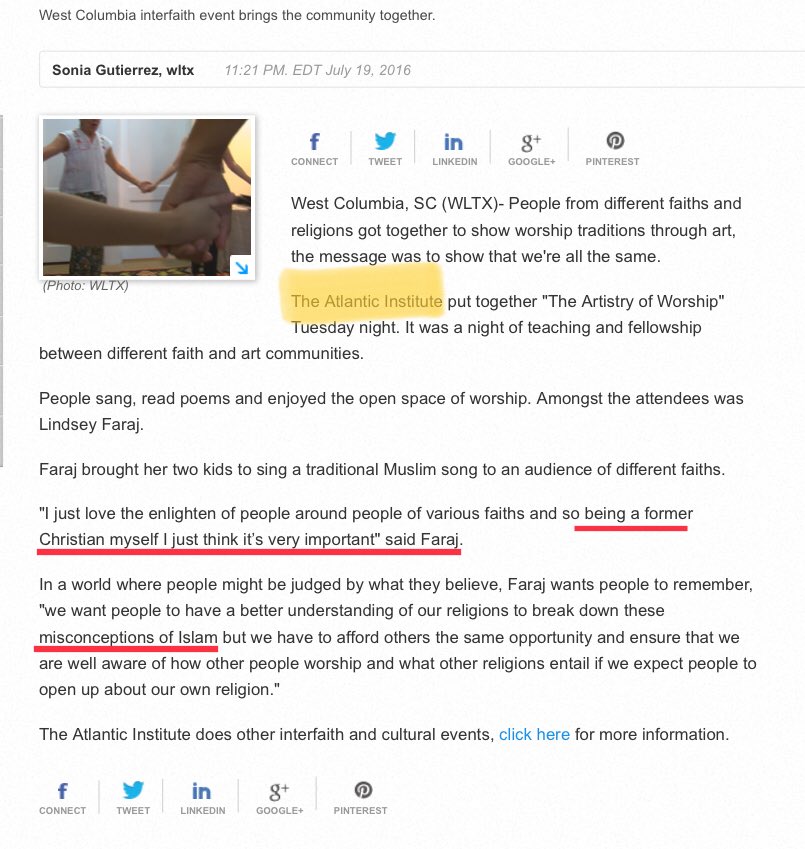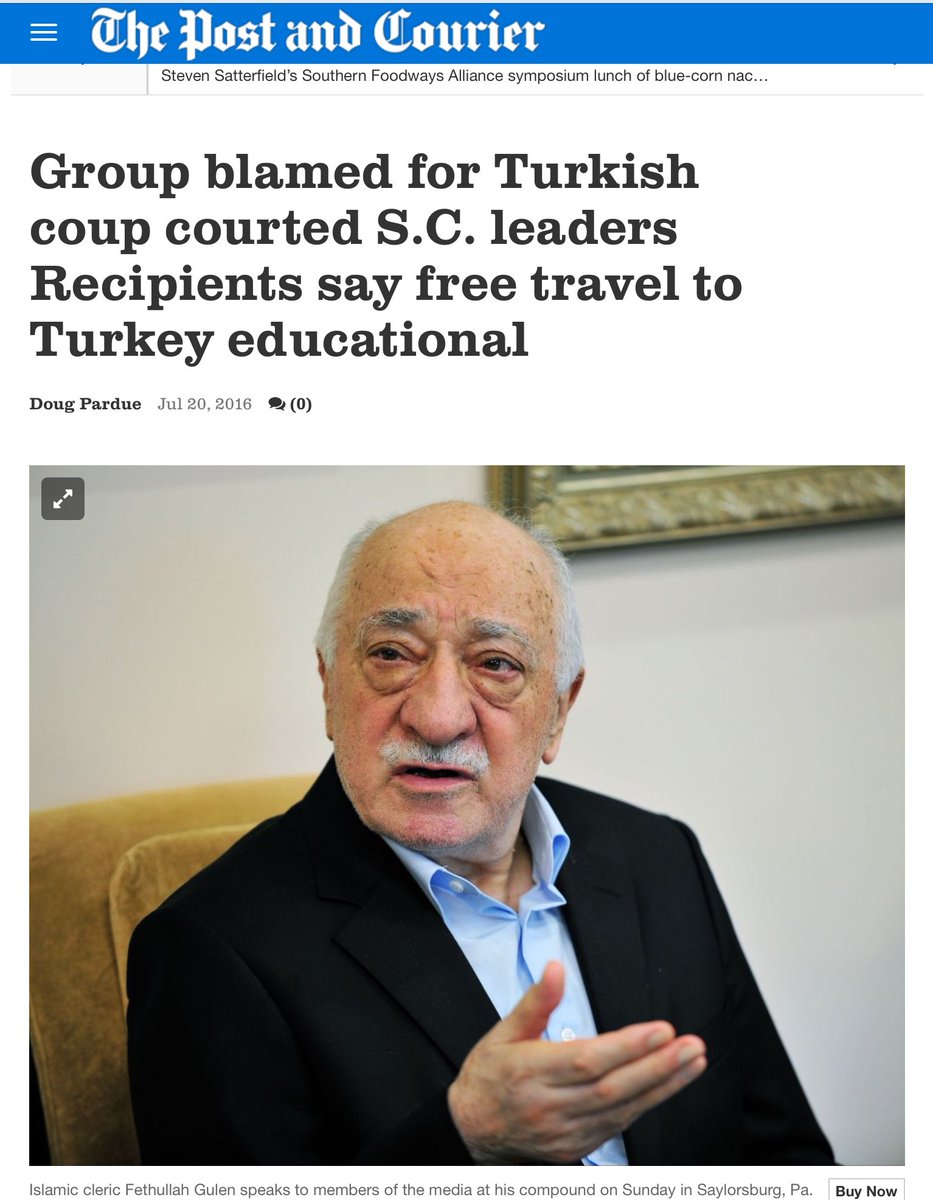 I assume CMCU, the Prince Alwaleed bin Talal Center for Muslim-Christian Understanding (renamed ACMCU) will be closed down since his arrest for money laundering, right @Georgetown?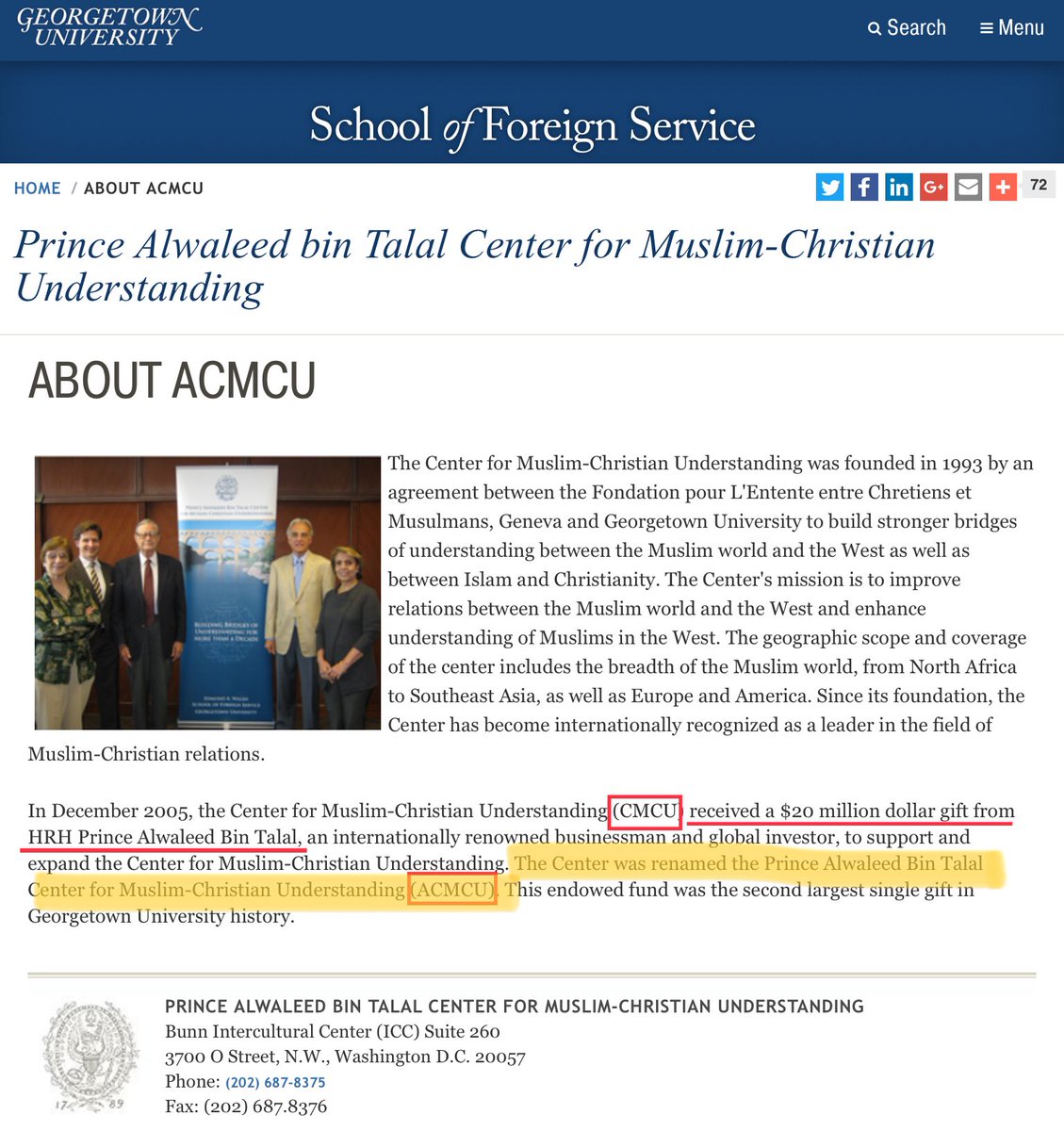 Turkey's Coup Attempt A Boon For DC Lobbyists – Intense lobbying fight

Podesta Group Gülenists infiltrated U.S. military bases. Makes sense.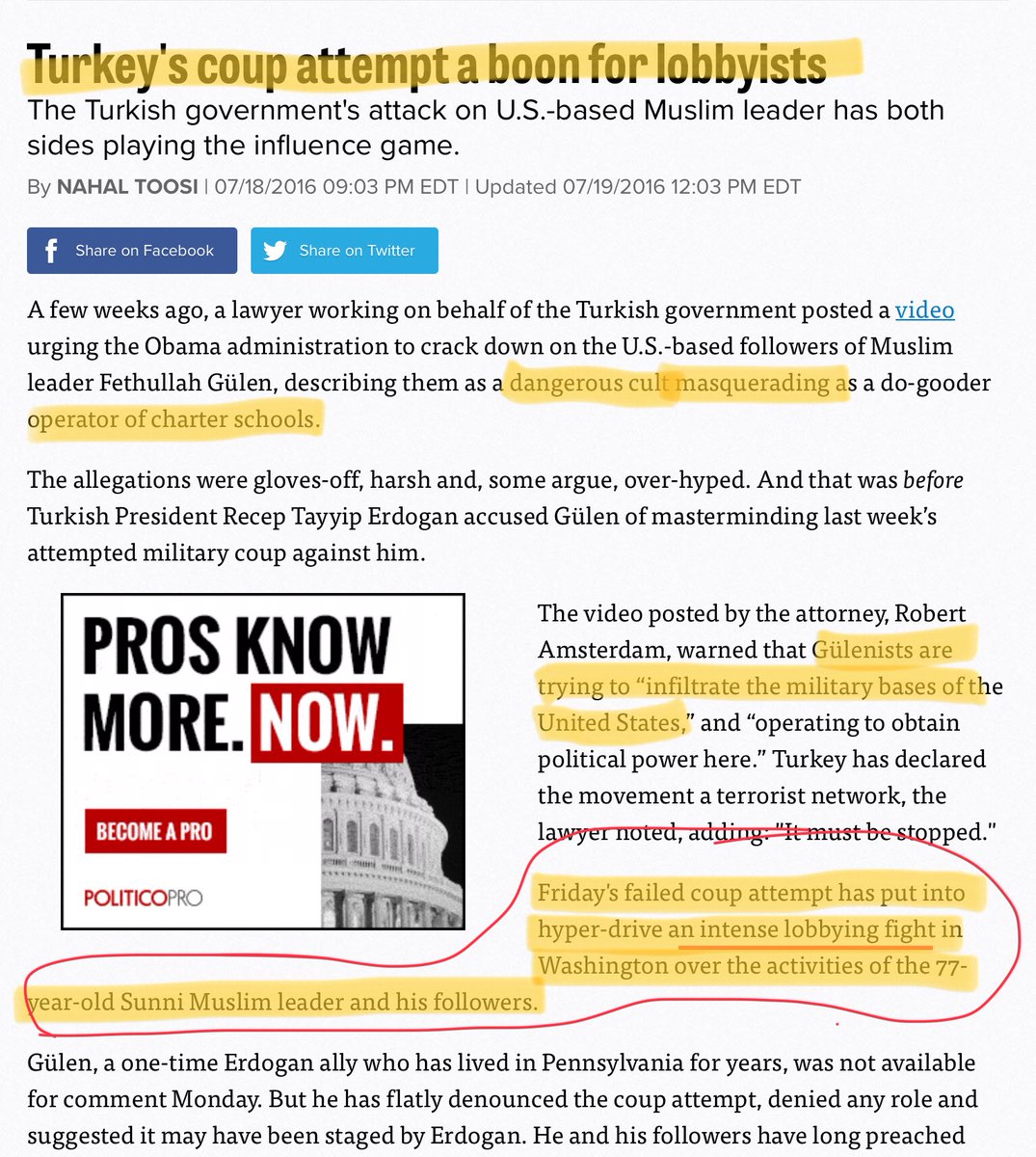 The "other side's" most prominent response has been through the Alliance for Shared Values, a non-profit umbrella group for Gülen-inspired U.S. organizations. The Alliance for Shared Values hired The Podesta Group in the spring to shape its image amid the avalanche of legal and political attacks. Harmony Public Schools, one of his institutions, retained a lobbyist: Pete Kirkham, former chief of staff to Rep. Tom Cole (R-Okla.). He was paid $30,000 for the month of May, according to public records.
Politicians bought by Gülen via lobbyists like Podesta Group • Sheila Jackson Lee • Al Green • Yvette Clarke • Ted Poe • Pete Olson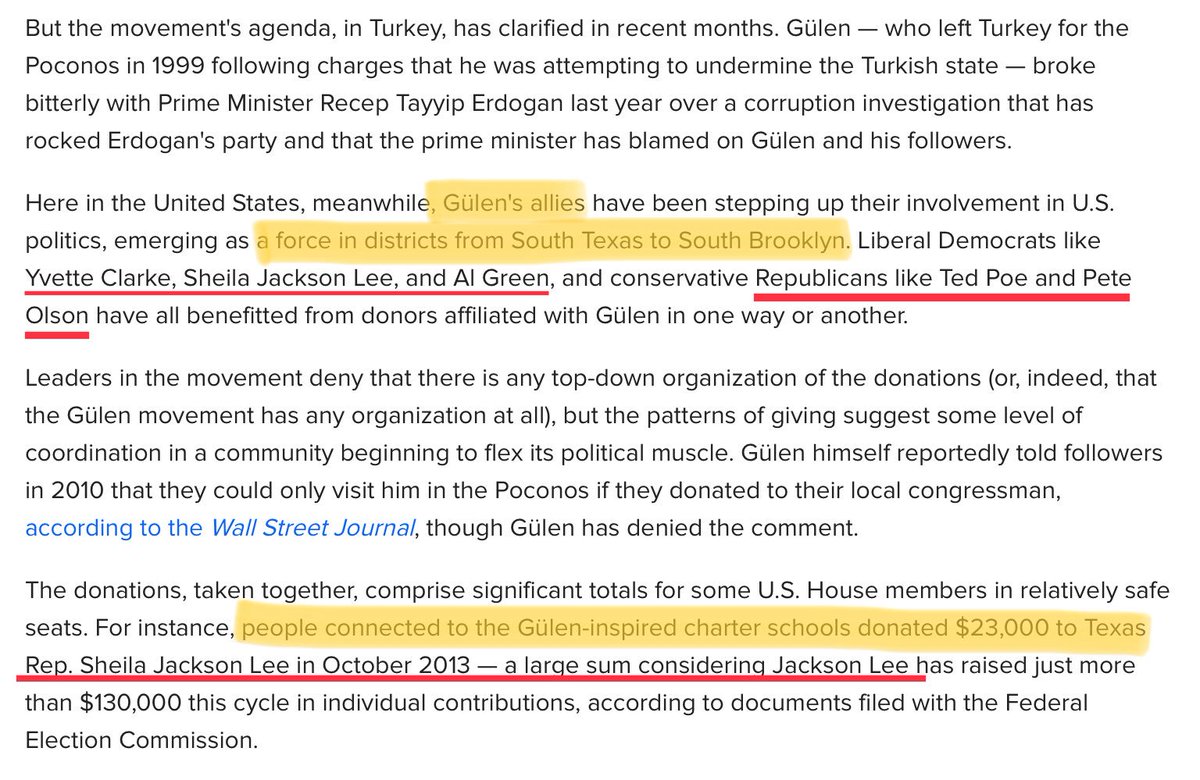 Sheila "has been always a supporter of our [Gülen-owned] schools," Caglar said. "She has attended all major events that Harmony organized."
Several local Gülen sympathizers have donated to politicians — including Rep. Yvette Clarke and Rep. Ed Towns, both New York Democrats, and Rep. Henry Cuellar, a Democrat from Texas.
The Podesta Group has the Alliance for Shared Values listed as a 2017 client.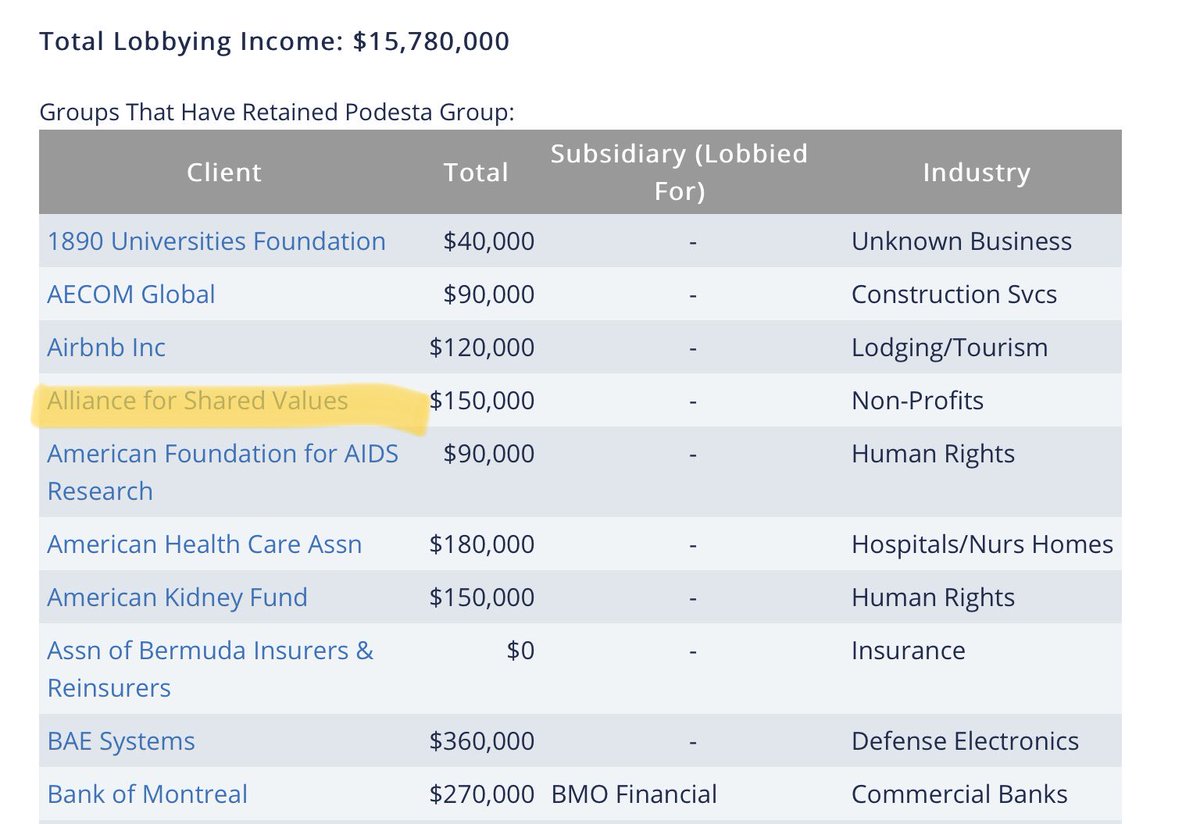 The Podesta Group has the Alliance for Shared Values listed as a client in 2016.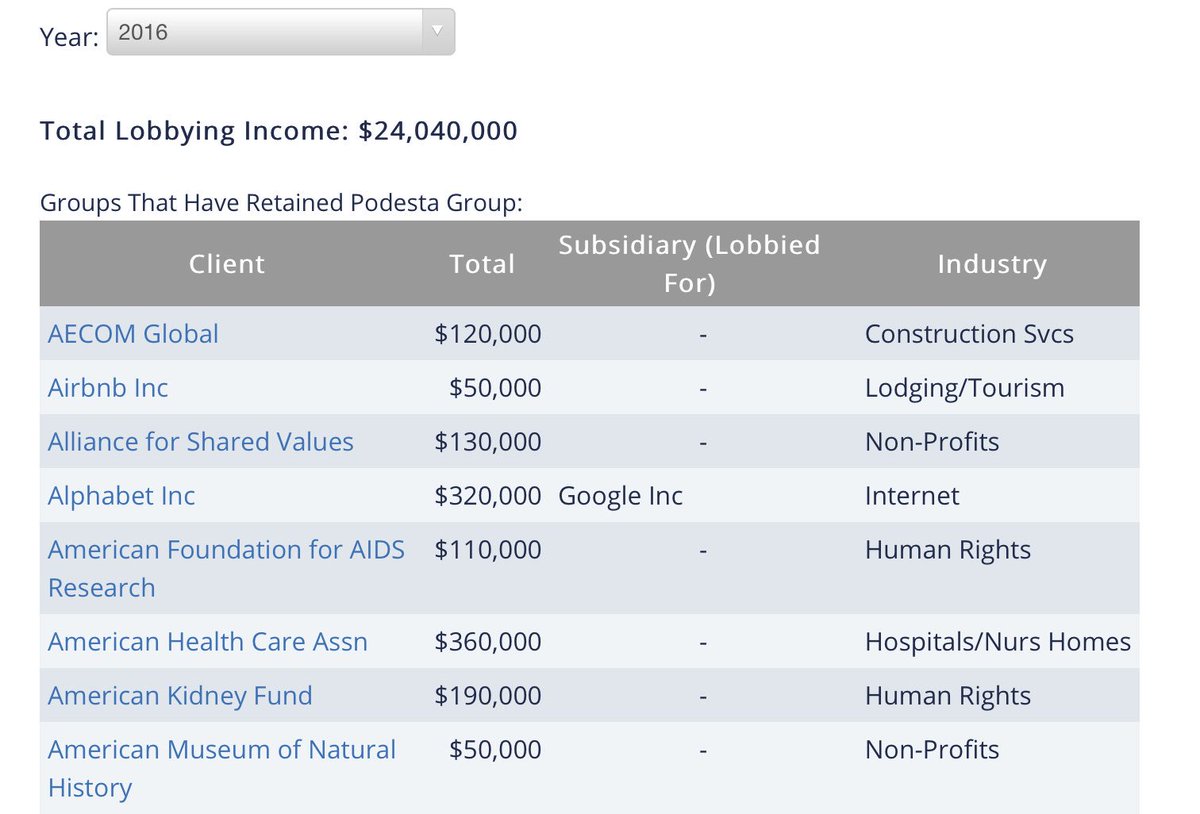 No prior years. Only for post coup defense.
Lobbyist from Podesta Group for the Alliance for Shared Values: David Adams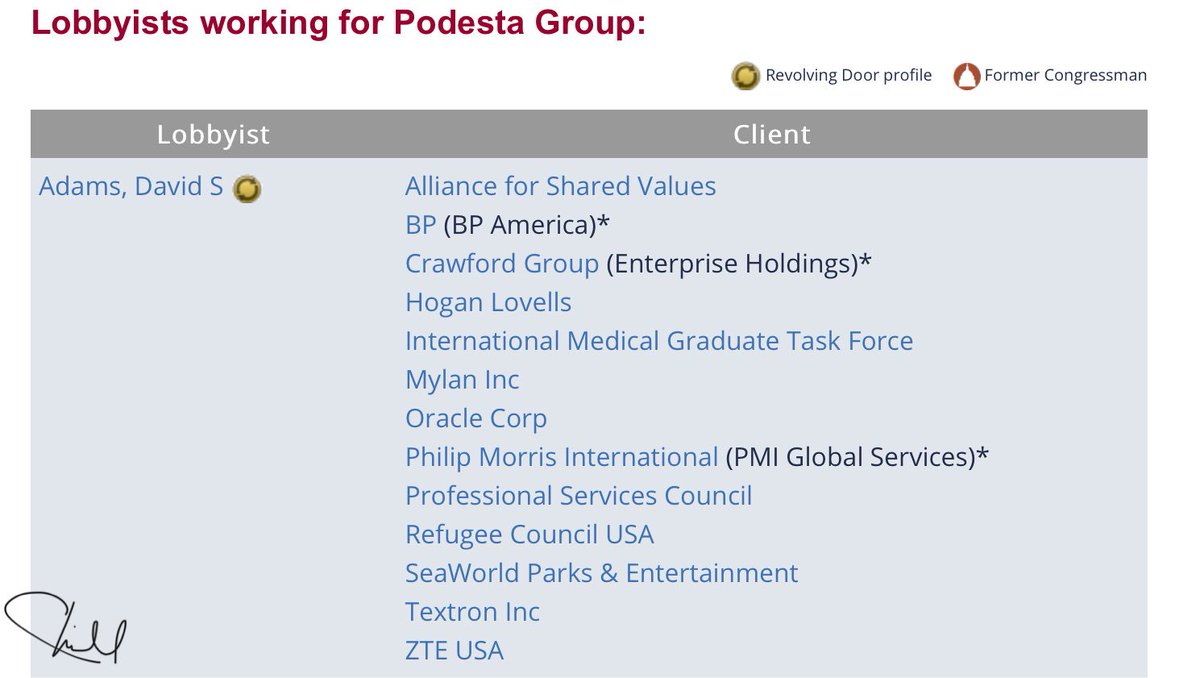 Riley Moore also.

Same two as above for 2017 Add Mark Tavlarides

Gülen-owned 2016 Alliance for Shared Values hired the Podesta Group lobbyists David Adams, Mark Tavlarides, and Riley Moore.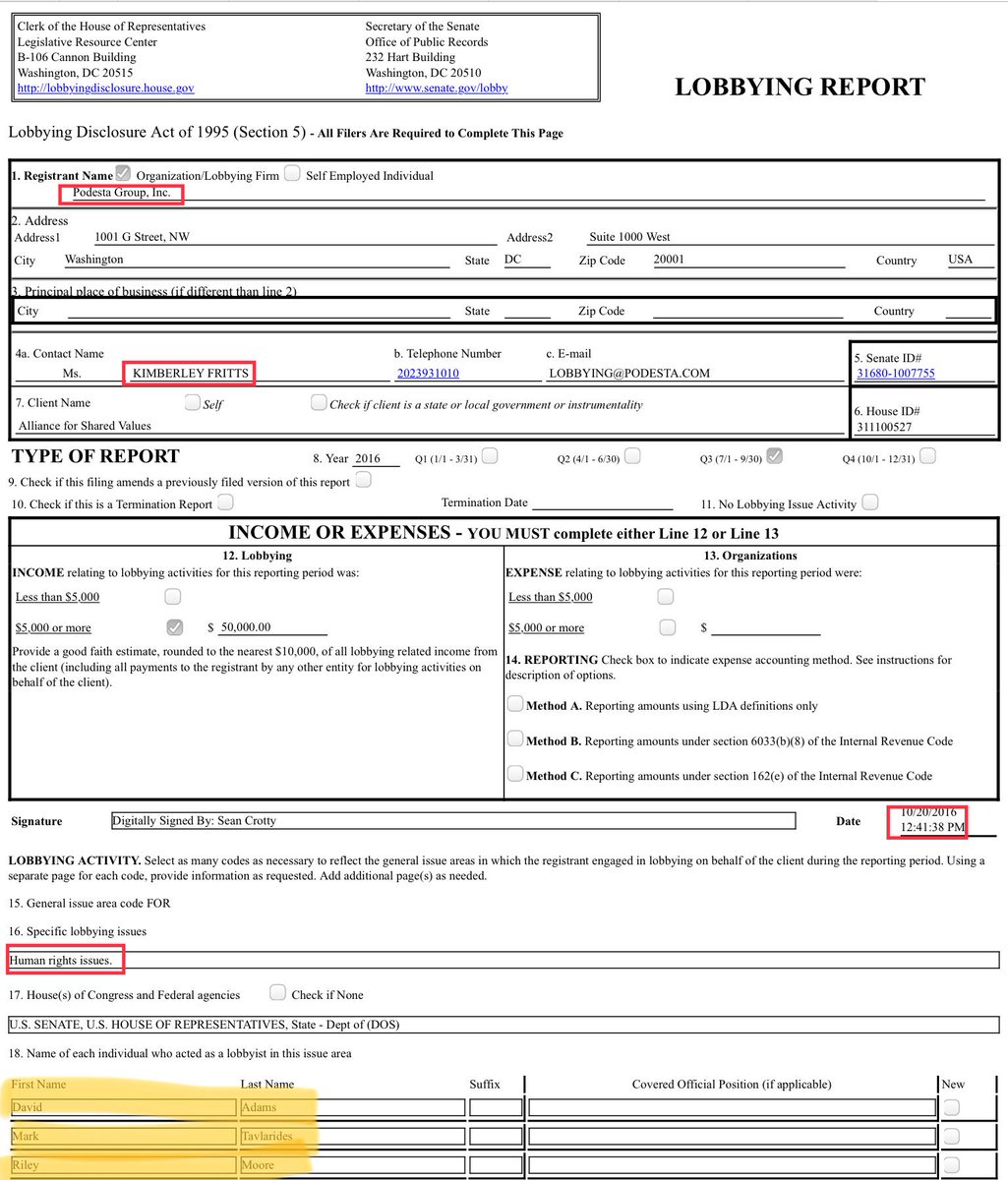 Two more: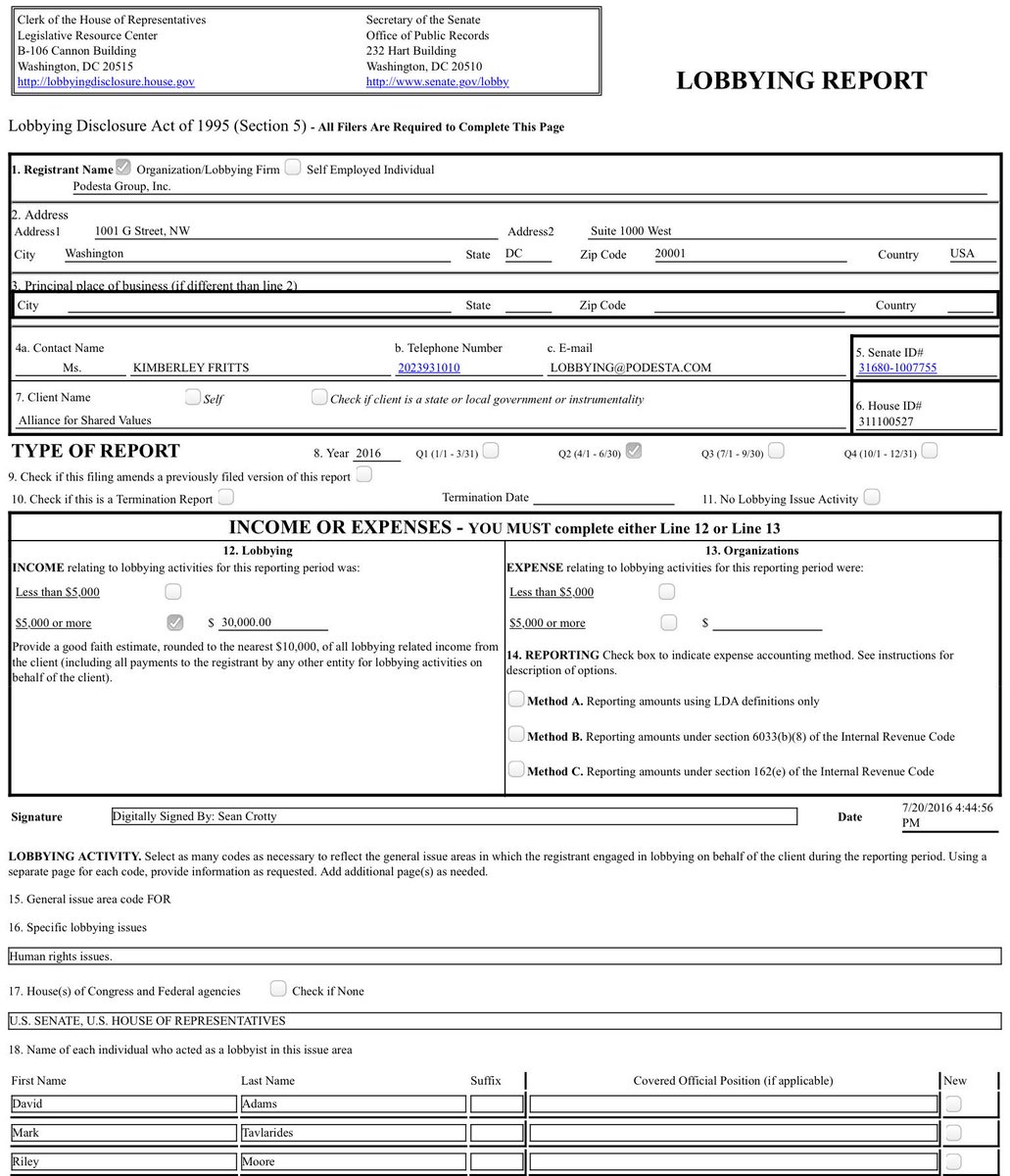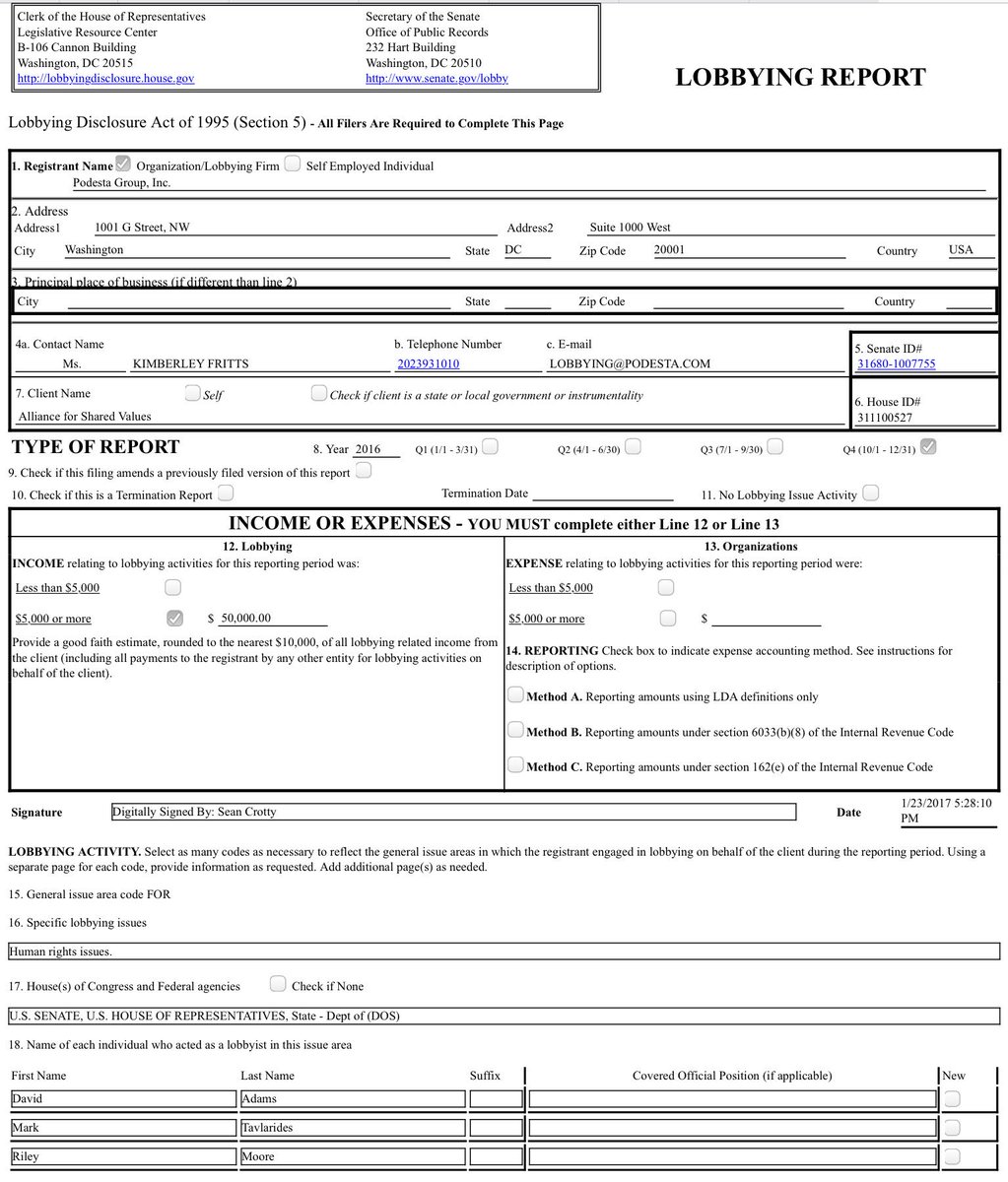 The Podesta Group was the only lobbyist group they hired.
2016: David Adams was also one of the lobbyists Podesta Group used for Sberbank, w/Tony Podesta.

And what did they [Podesta Group for Sberbank] lobby for? Categorized under Banking. • Ukraine • Sanctions relief Mueller is following that $. Whew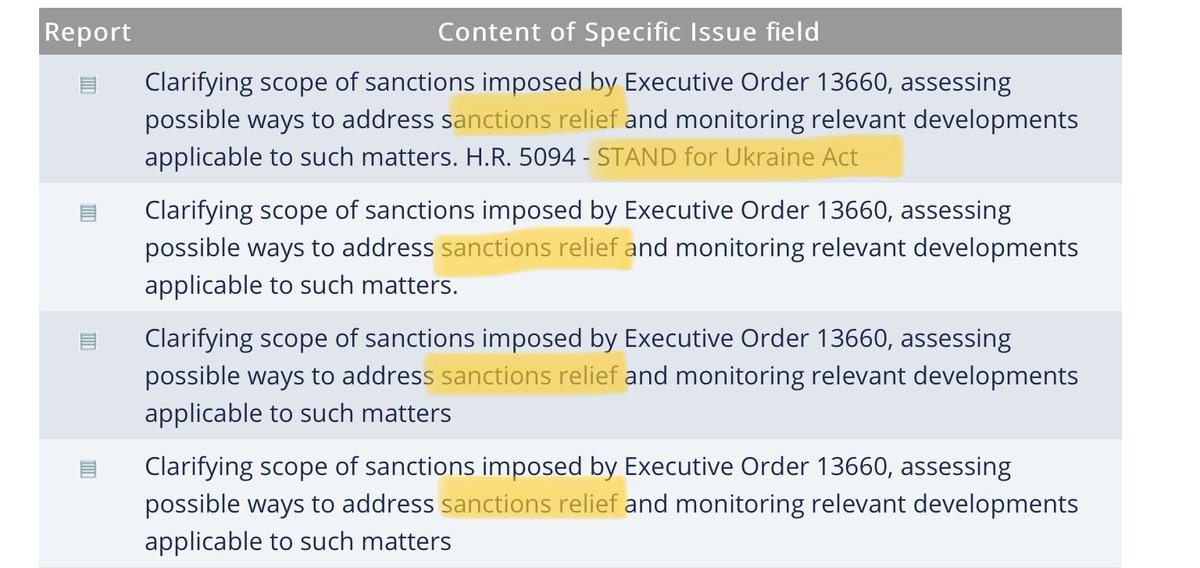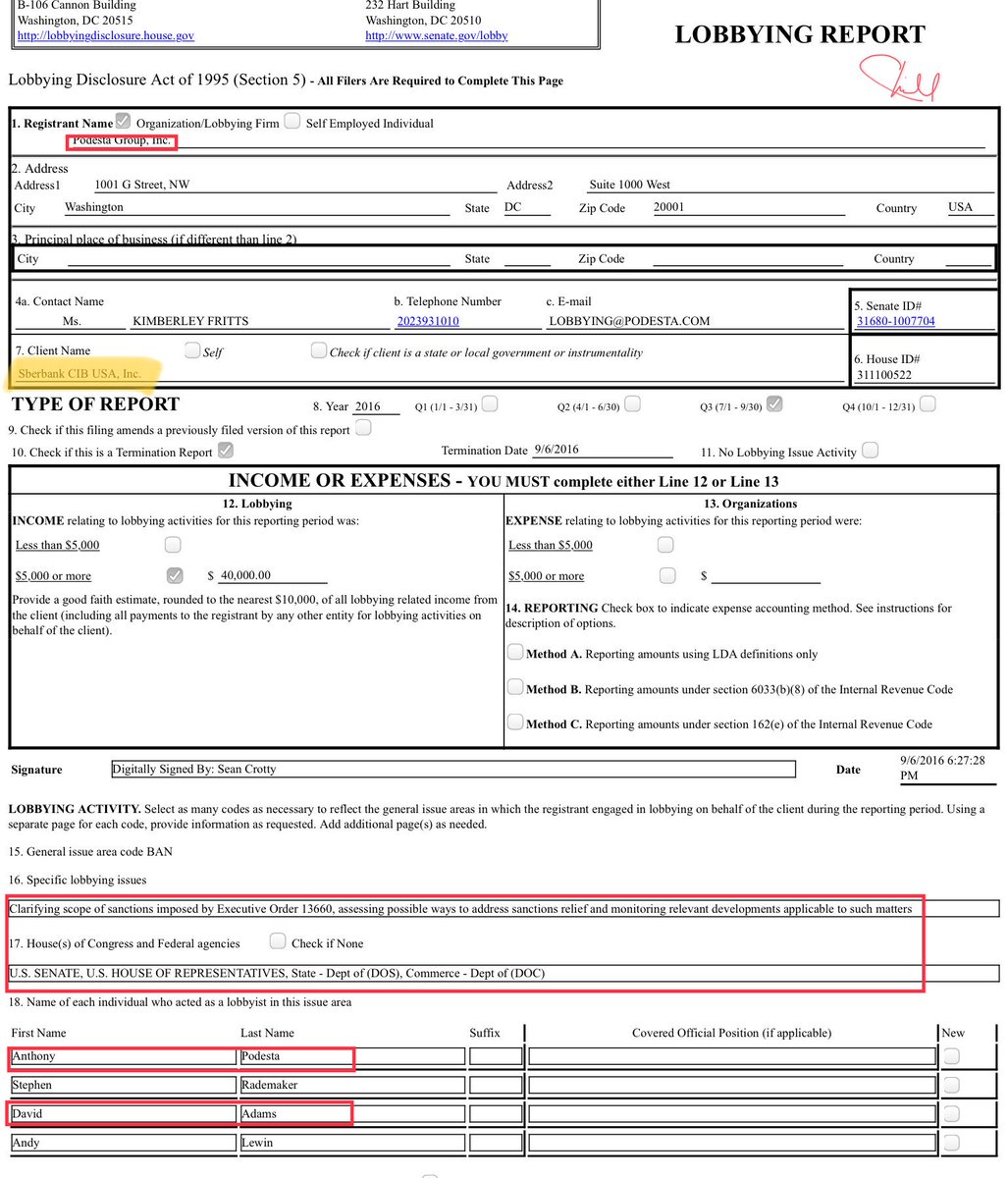 Hey now. Mark Tavlarides, of the Podesta Group, lobbied on behalf of the same ECMU front in Ukraine that Manafort and Gates were indicted for.

We know now that they (like Manafort) did not follow FARA guidelines. Same time. (Except it didn't take Paul long to correct it. It took 5 years for Podesta to correct.) Mueller has Podesta by the ball sack.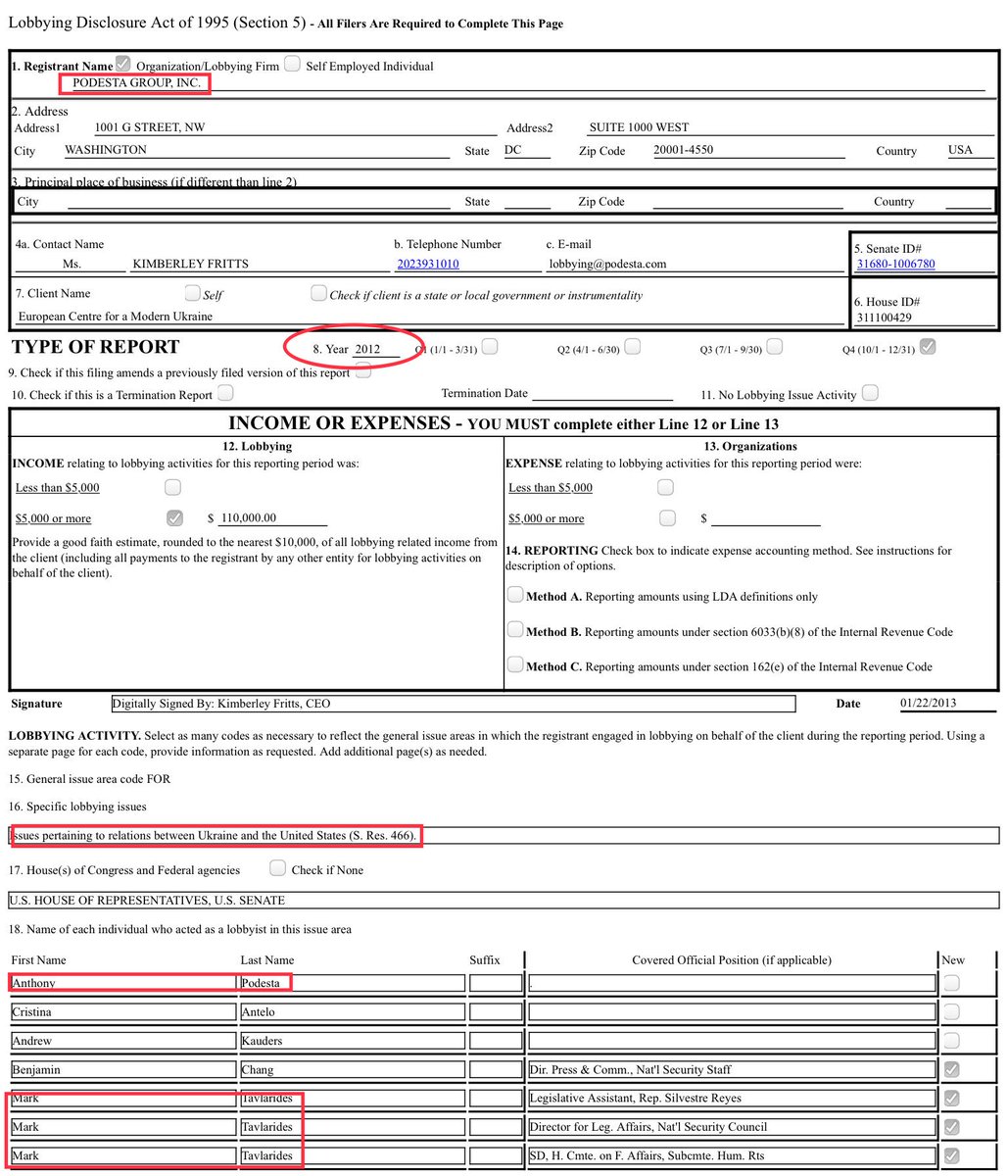 Who specifically was lobbied by them IRT ECMU?
Podesta Bro Docs recently updated to reflect work done on behalf of ECFMU (front company). #Ukraine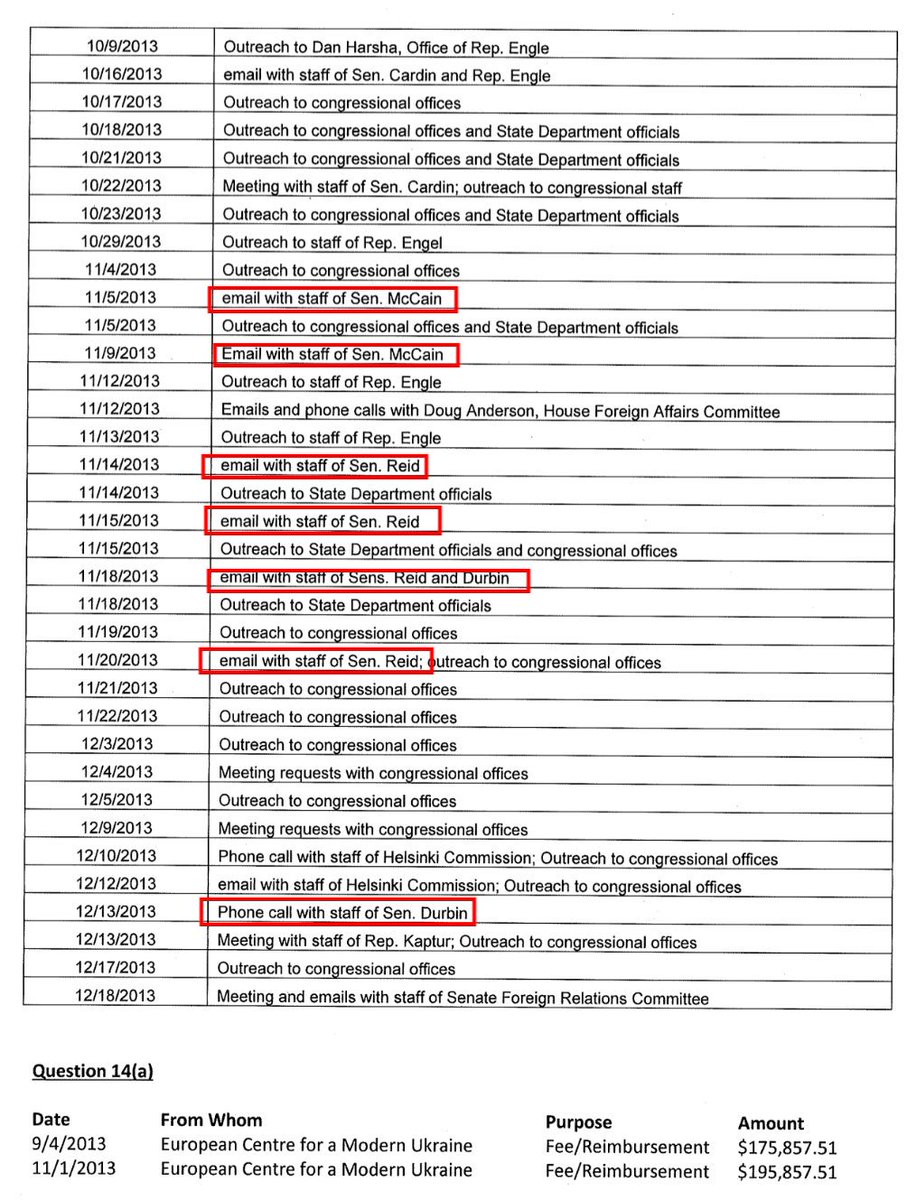 Podesta Group's work for front company ECFMU 2012 – emails w/Joe Biden, meetings w/State Dept, NSC.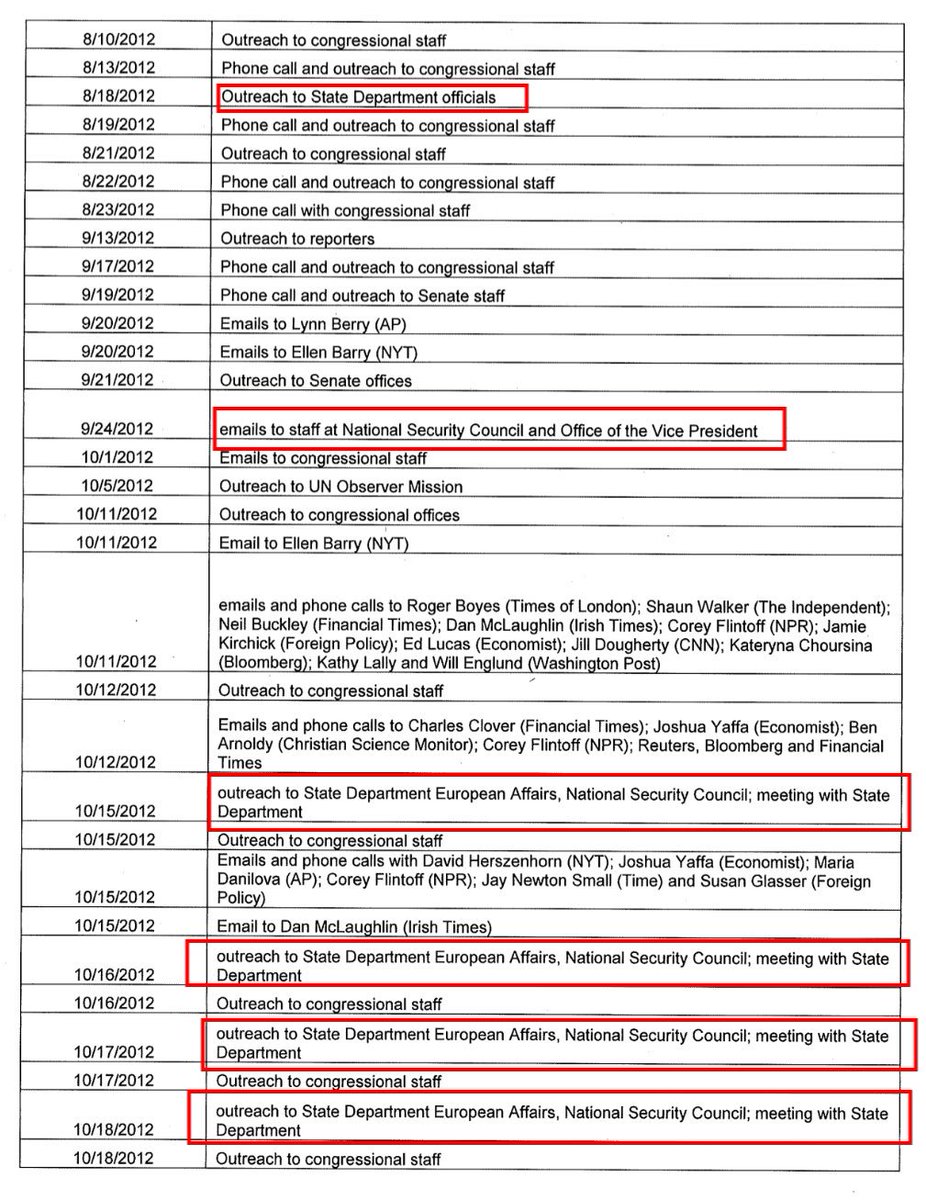 •Liz Sherwood-Randall •Dmitry Vovchuk •Phil Reeker •Dan Russell •Baxter Hunt •Ernest Abisellan •Bay Fang •Chris Hensman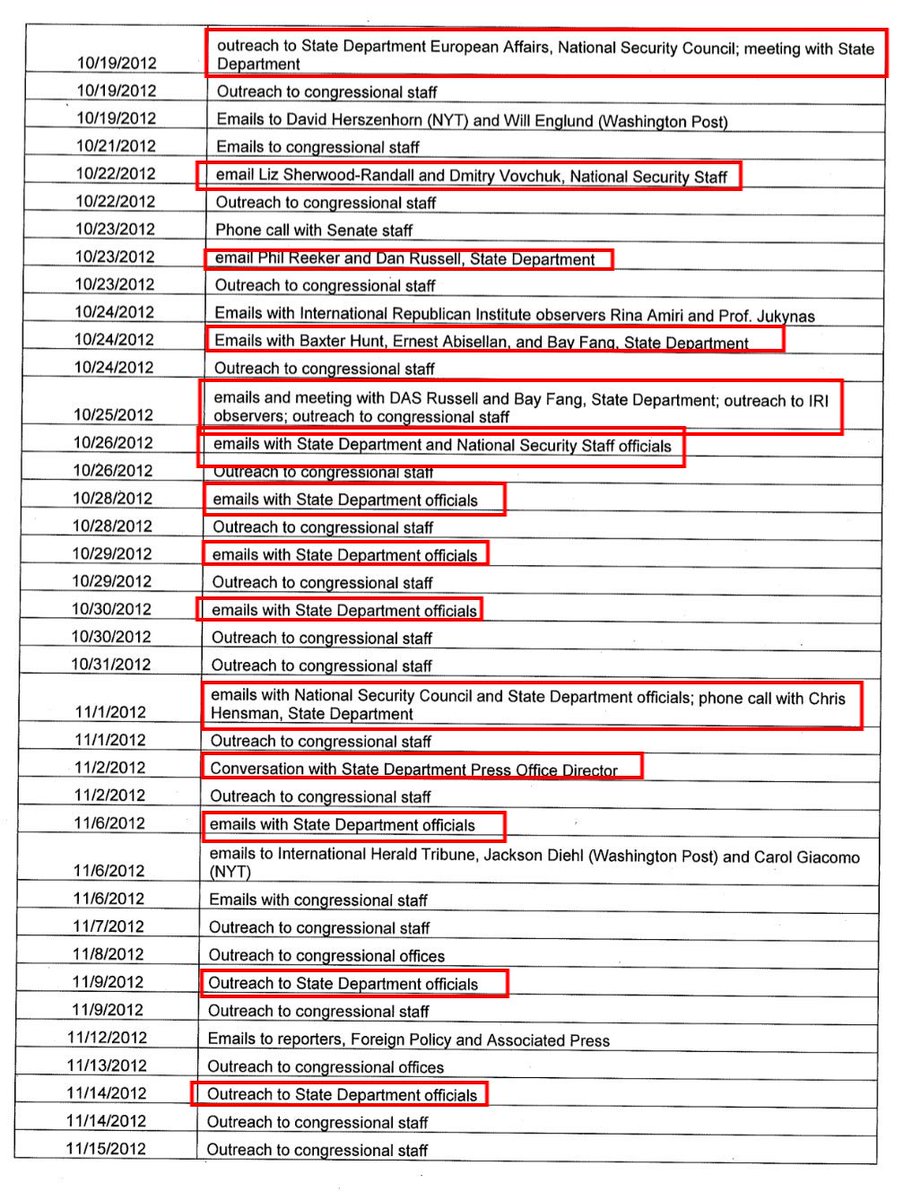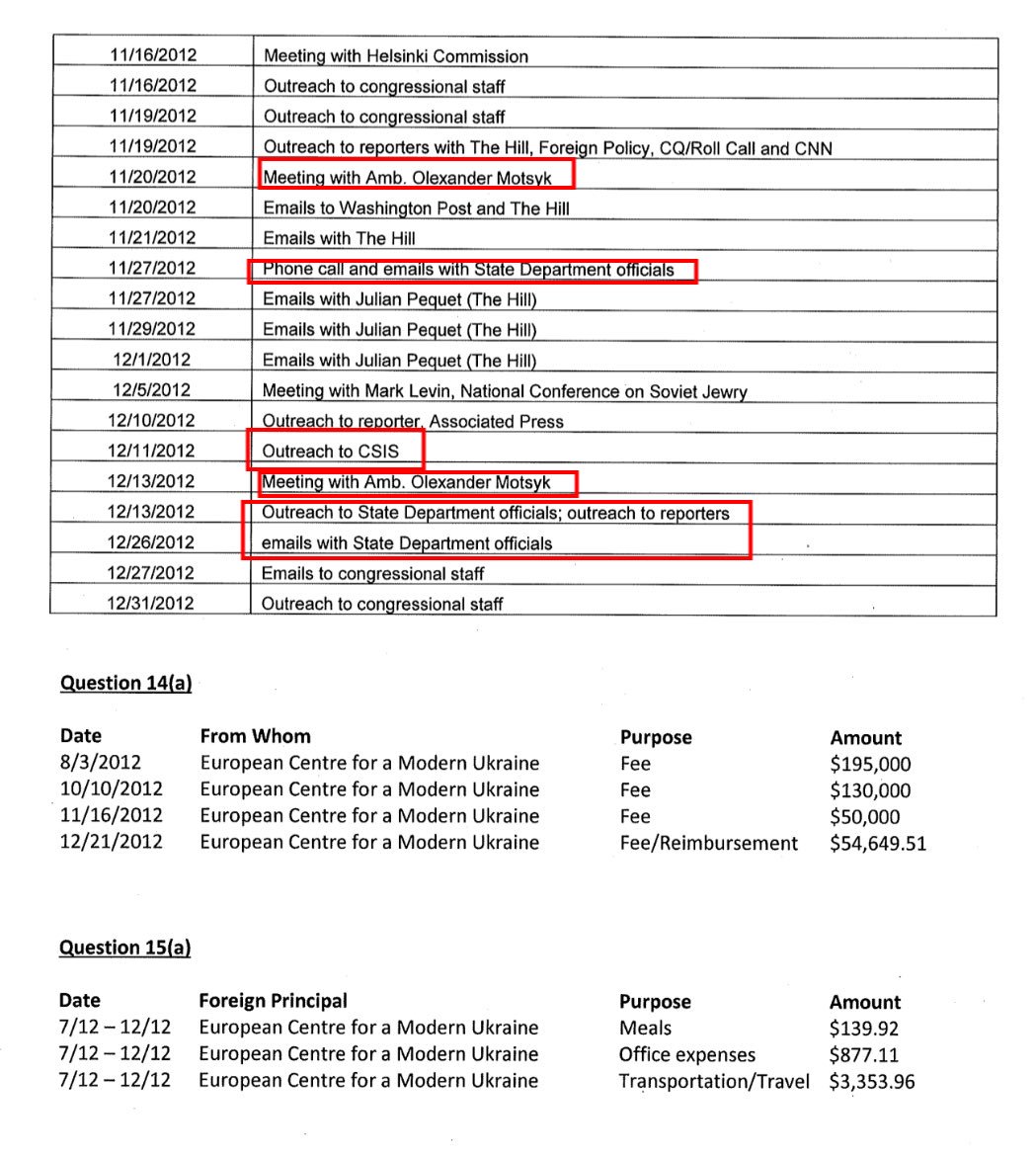 Podesta Bros work for ECFMU — 2013 Tom Nides Yaroslav Brisiuck – Ukraine embassy CSIS GMFUS *Michael McFaul* Atlantic Council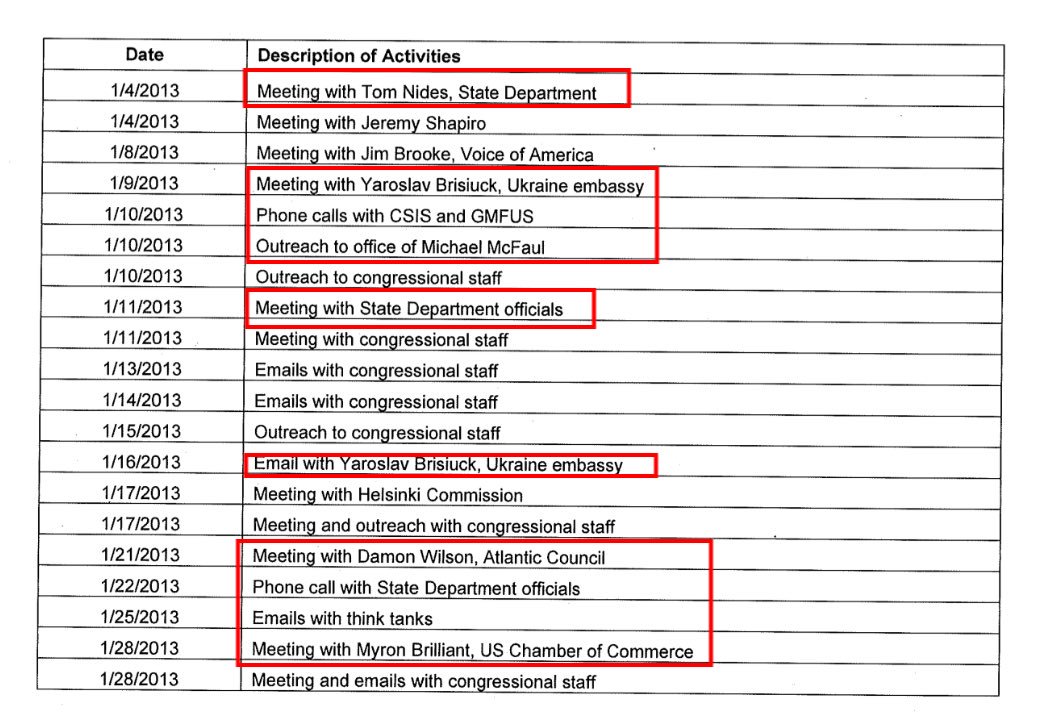 Want to know what CSIS does? Click here And here
2013 – ECFMU – Ukraine Jake Sullivan •Evelyn Farka[s]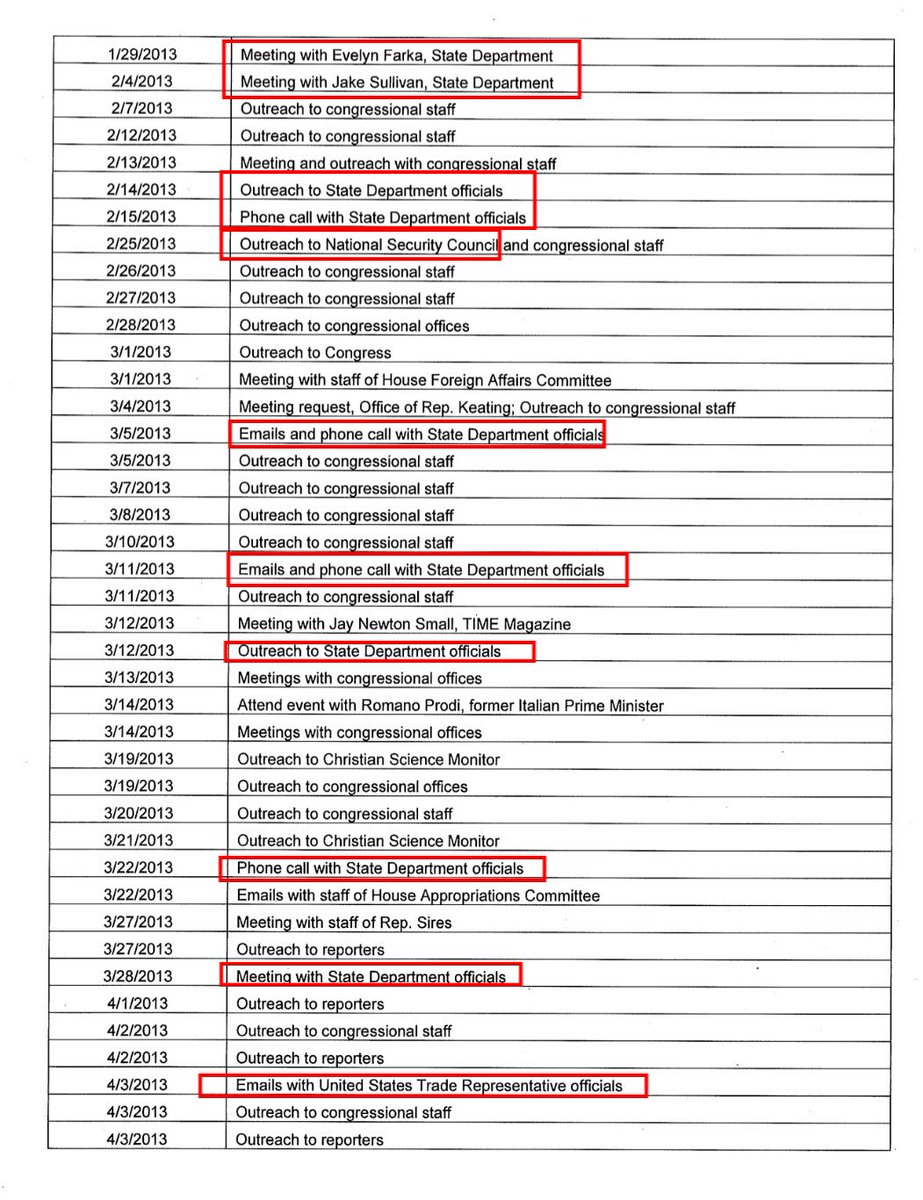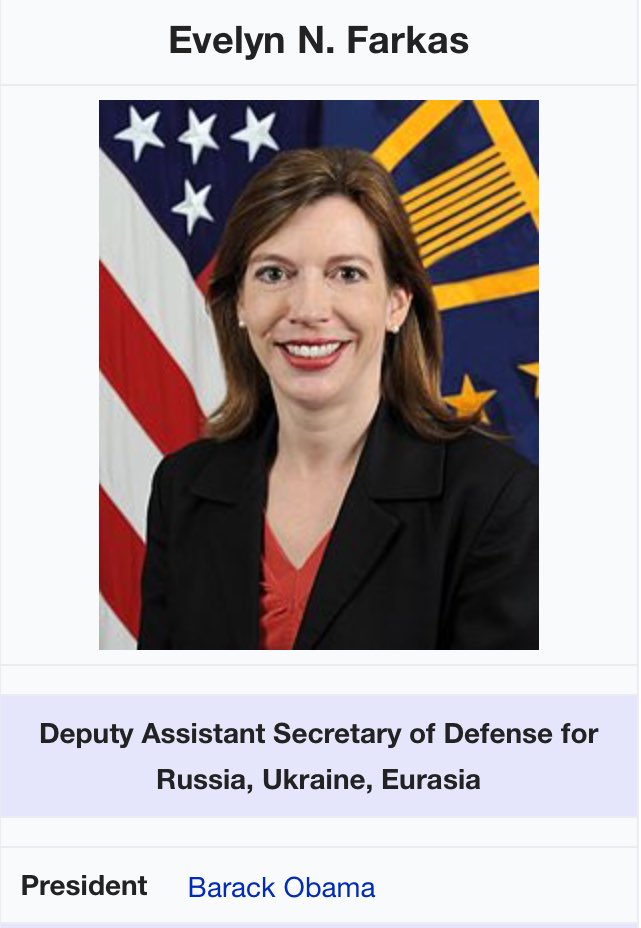 •Harry Reid •John McCain •Dick Durbin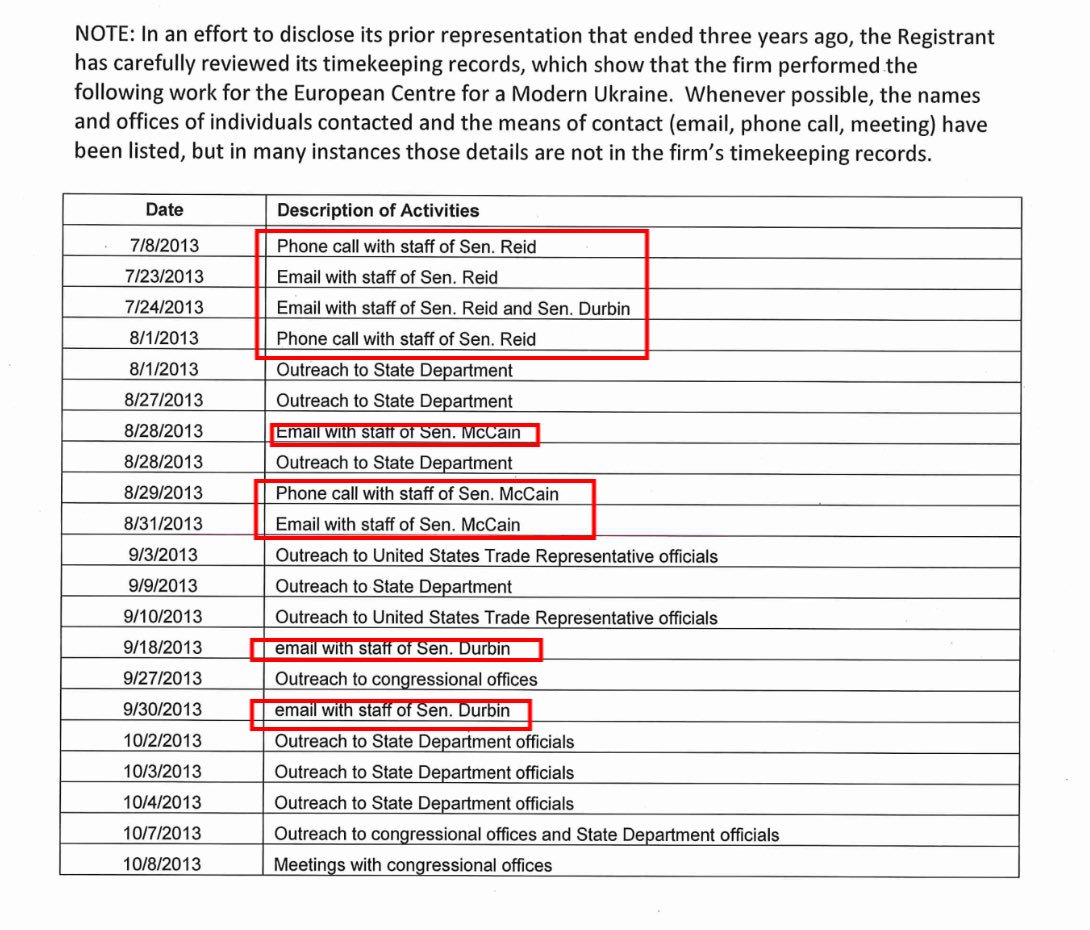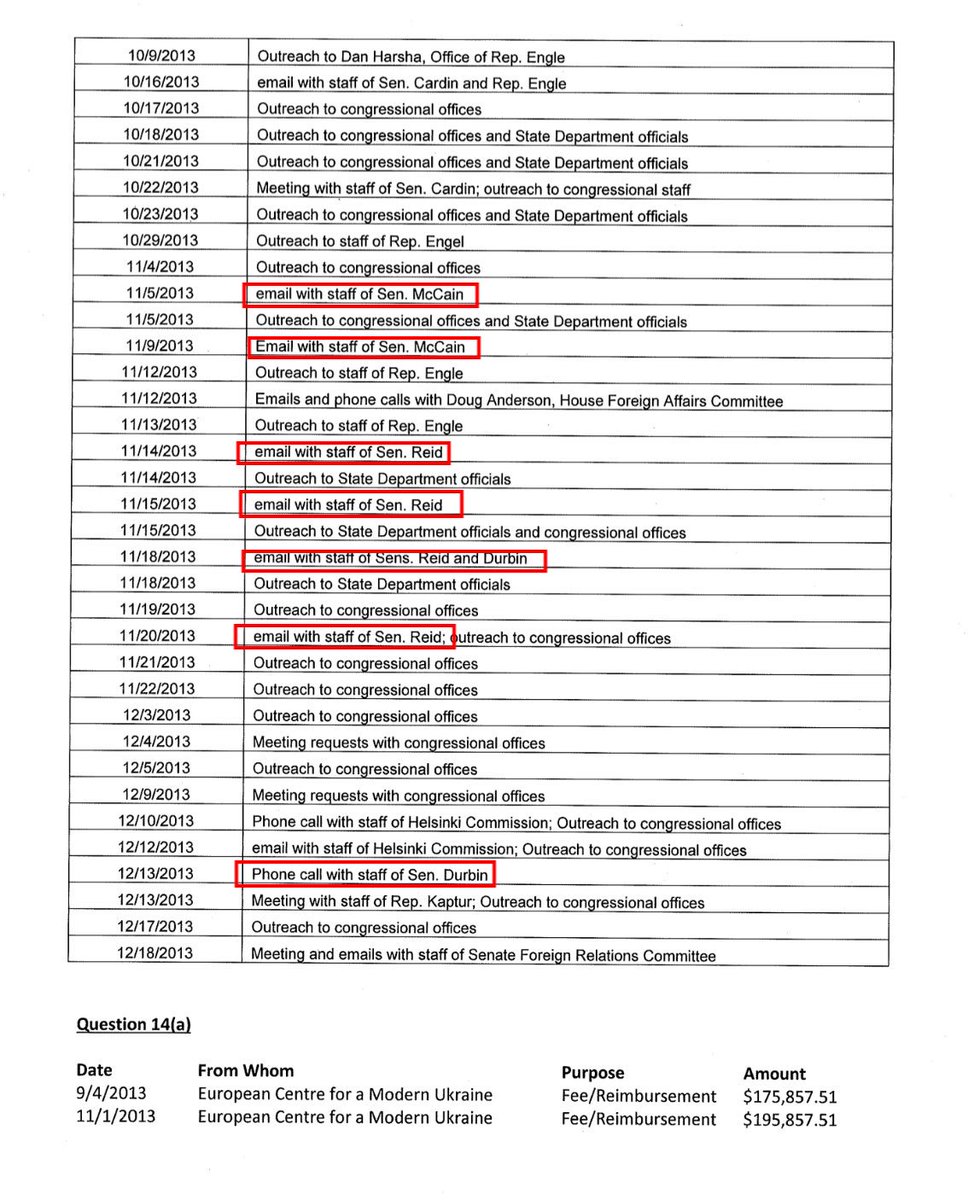 Dan Harsha – is one of seven people lobbied by Podesta Bros for Ukraine's front org., ECFMU, while he was comms Dir. for Dem Foreign affairs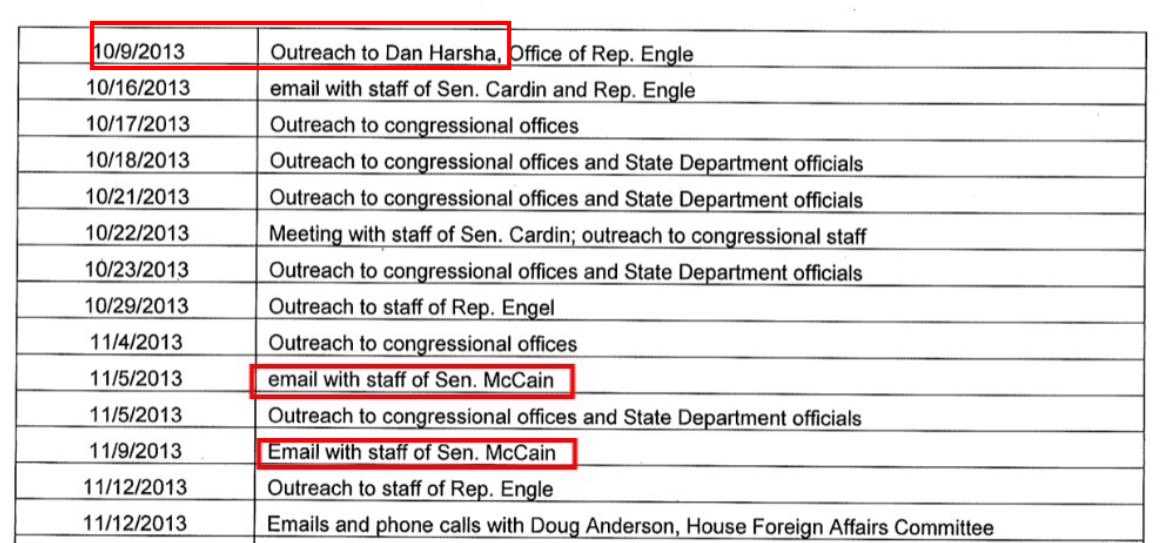 President of National Democratic Institute – Kenneth Wollack – Lobbied by Podesta Bros for Ukraine's front org., ECFMU
@Ken Wollack's National Democratic Institute was accused of fomenting revolution in Armenia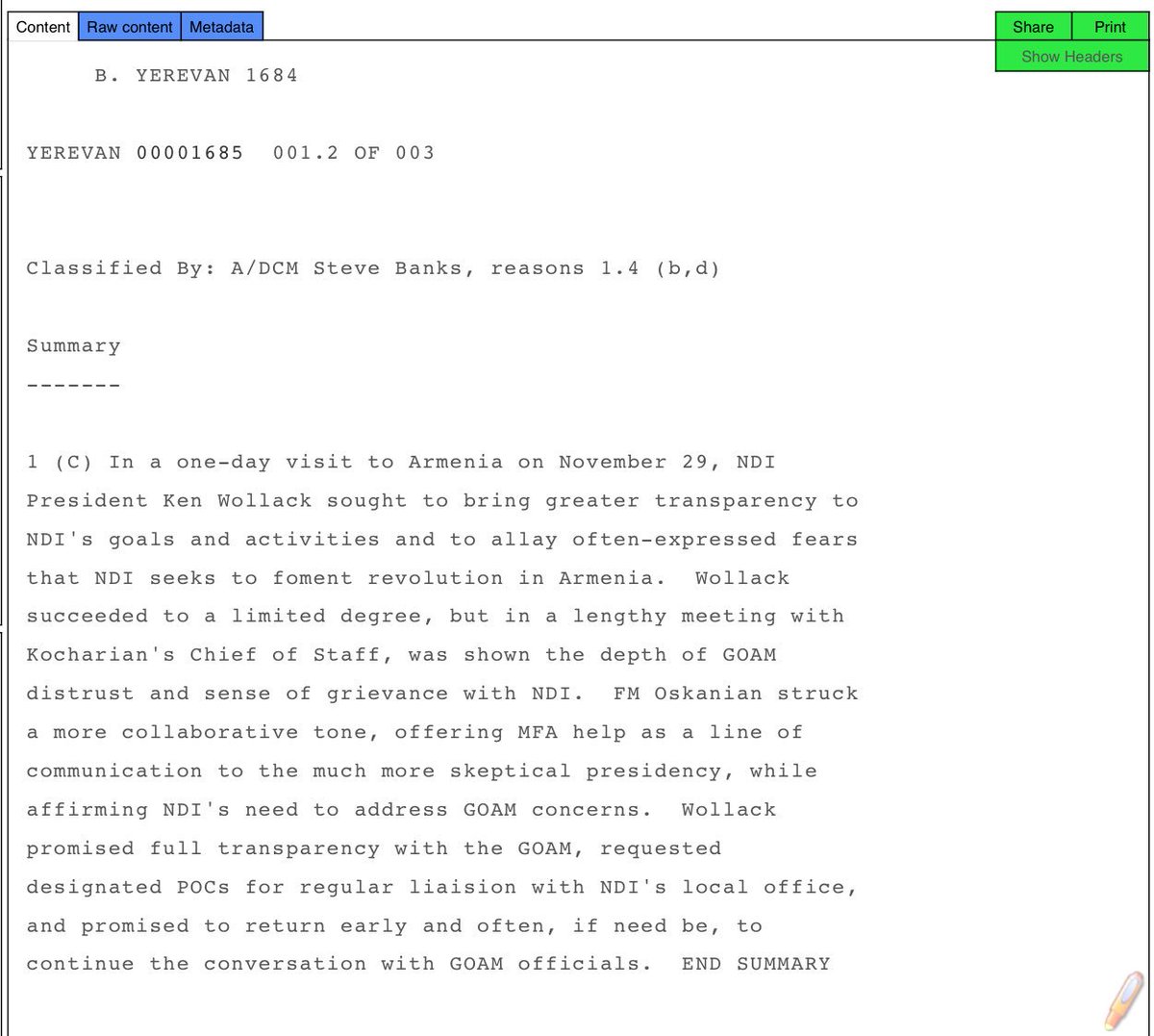 Armenia wanted Wollack's NDI to shut down until after elections; blamed NDI for wanting a color revolution.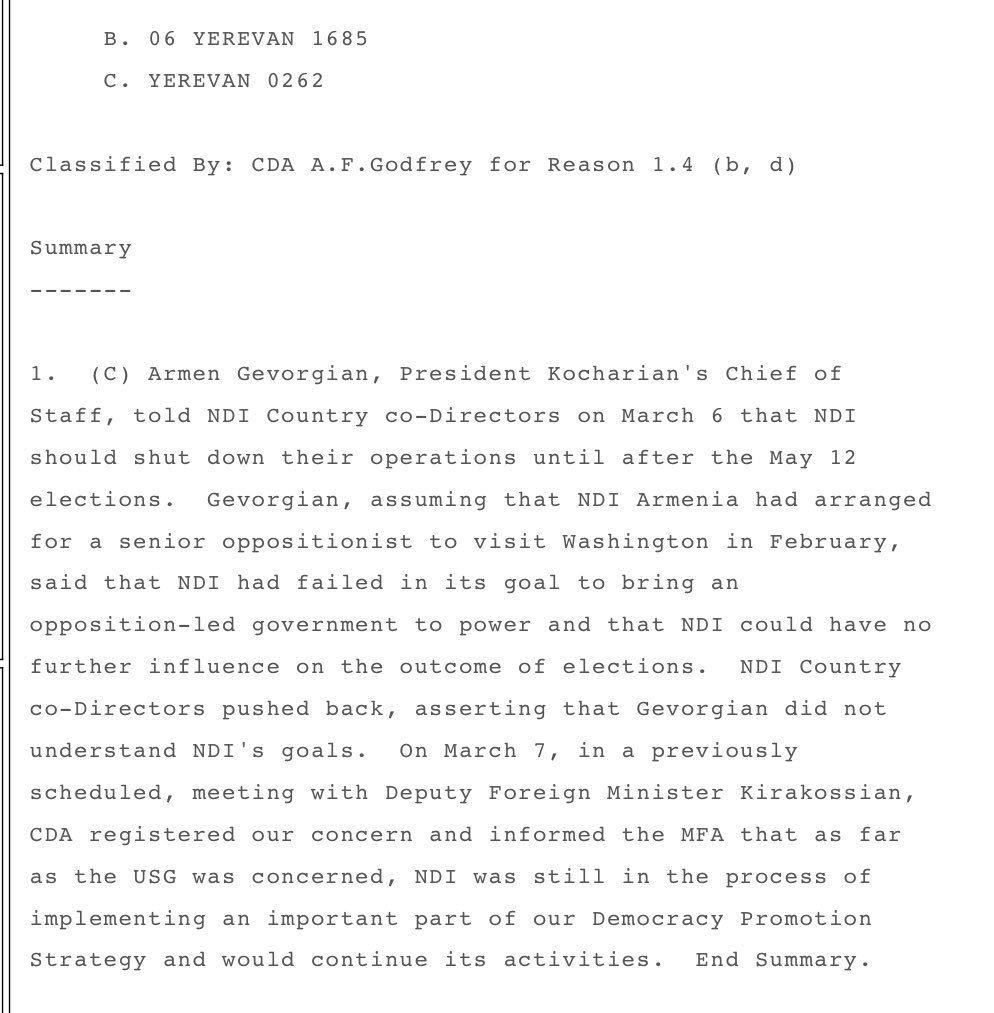 By 2013, Reuters was reporting that the Podesta Group had received $900,000 in payments from the ECFMU, and Buzzfeed's Rosie Gray wrote about the ECFMU's payments to conservative U.S. writers and bloggers in exchange for favorable coverage for the Party of Regions. Here's the Reuters article referenced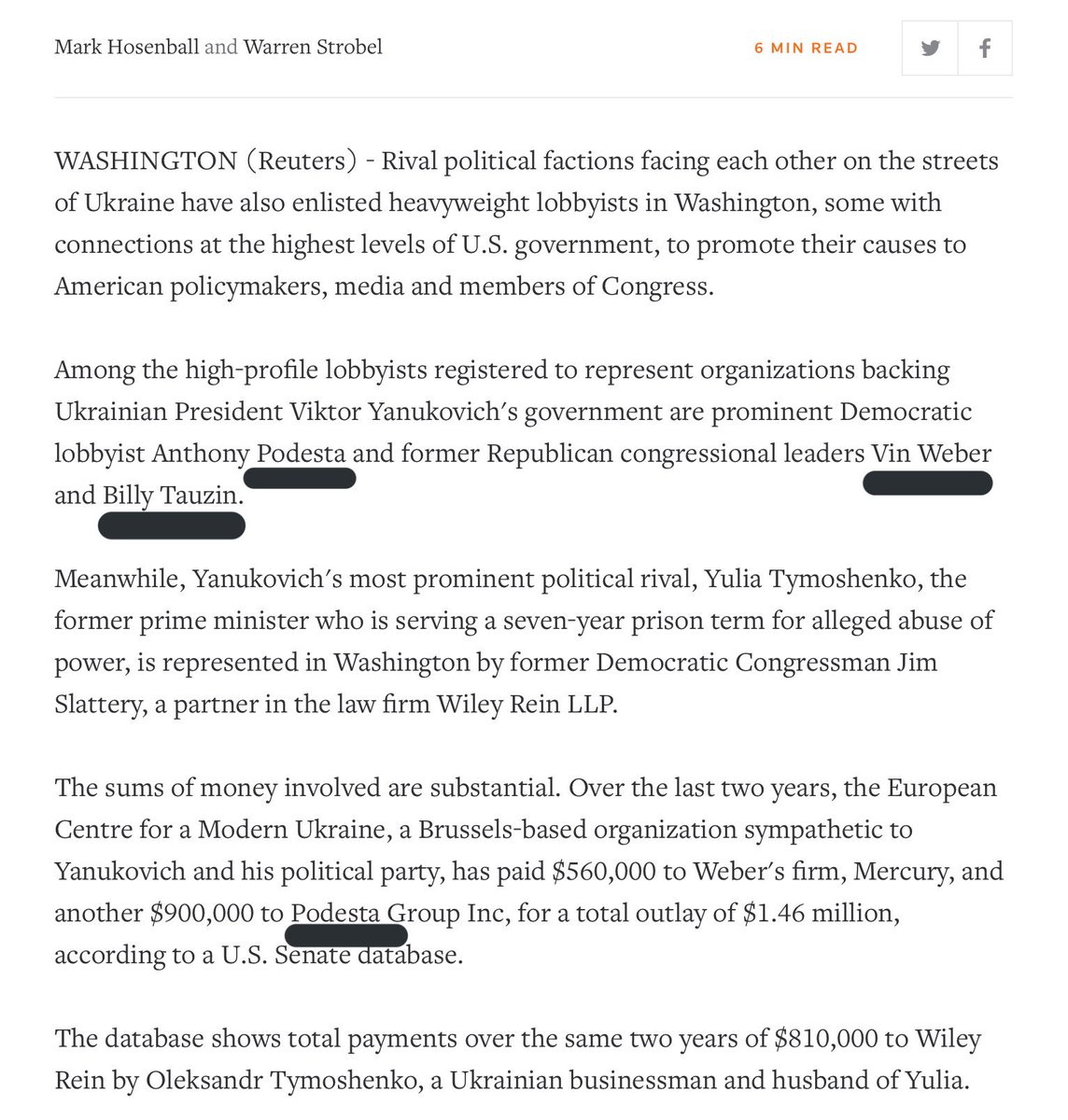 The lies are incredible!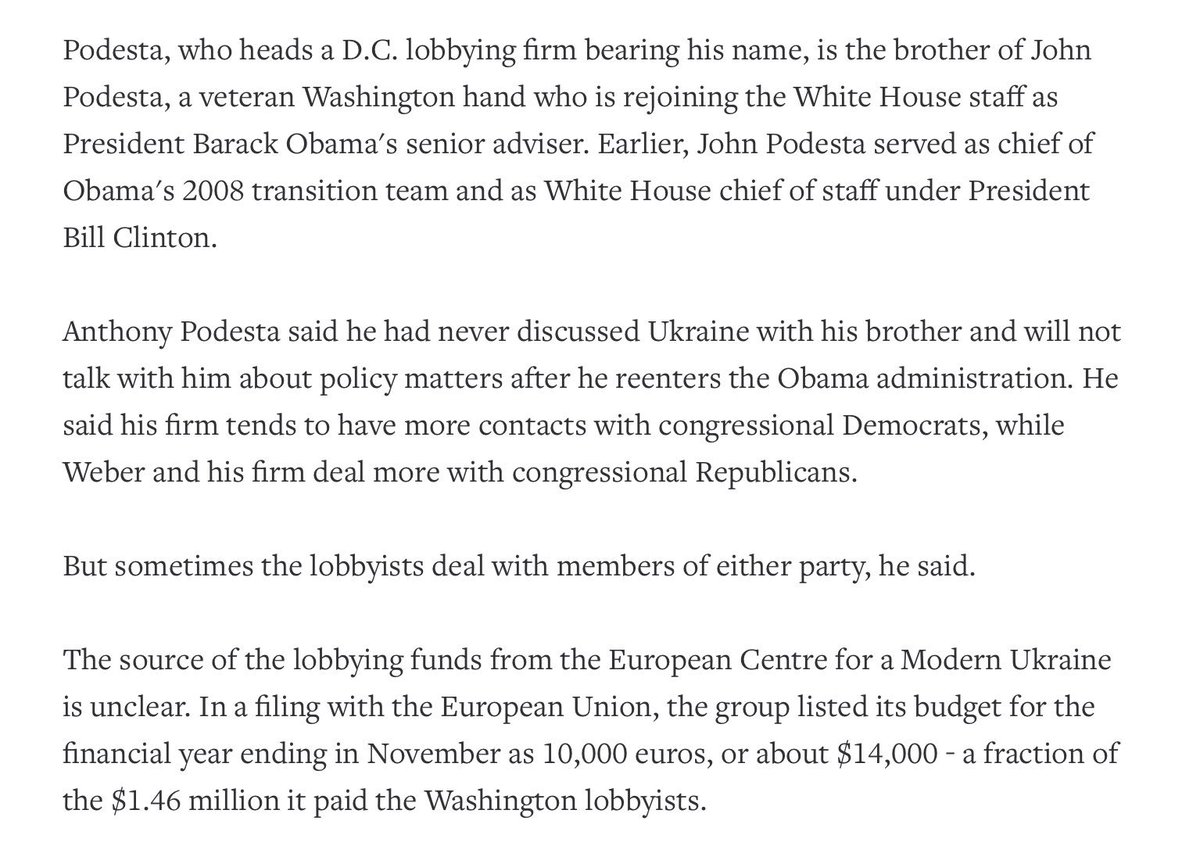 Here's Rosie's article: Exclusive: How Ukraine Wooed Conservative Websites
This fake ECFMU org reminds me of the fake org Natalia Veselnitskaya, Rinat Akhmetshin, and the usual suspects created.  Podesta Group had retained an outside legal firm to investigate whether or not they had been duped by the ECFMU…and that they were considering litigation against the Centre, which no longer has an online presence and appears to be inactive.See here And here:
Ukrainska Pravda reported in 2014 that the ECFMU was founded by three former members of the Ukrainian Parliament all members of Yanukovych's Party of Regions — and that the group had spent over $1 million lobbying the U.S.Congress through firms such as the Podesta Group. That same year, after Yanukovych was booted from office and fled the country, Eli Lake wrote for The Daily Beast of how easily the ECFMU was able to evade the requirements of the FARA, by falsely presenting itself as an independent organization. All the talk about the Clinton Foundation being a problem, it's strange that the Podesta Group's lobbying and public relations work on behalf of both the Saudi and former Ukrainian governments didn't raise more eyebrows, particularly considering the fact that the Podesta Group was either duped by the Ukrainian regime or too careless to check out the source of their seven figure payments. If Manafort's work made him too much of a liability to stay on the Trump campaign, what should that have meant for the Podesta brothers' business and Hillary Clinton's campaign?